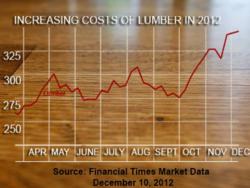 Things are lining up for housing and housing is likely to contribute to GDP growth this year. It's another step in the right direction, but you still have a long, long way to get back to 'normal' in housing. ~ John Canally, LPL Financial Economist
Minneapolis, MN (PRWEB) December 11, 2012
The National Association of Home Builders (NAHB) recently surveyed single-family residential builders and home remodelers to determine who and where construction materials, chiefly lumber, are purchased. As well, the Bureau Of Labor Statistics report follows NASDQ's findings that lumber costs have significantly increased on a steady incline throughout 2012.
Butch Sprenger, owner of Destiny Homes, says, "Lumber supply and demand influences lumber costs. As the backbone of our American history, lumber products flow from net producing regions to net consuming regions. There are numerous factors that affect these flows with the economic drivers generally caring the most weight. Some of these drivers include regional supply and demand imbalances, differences in relative production efficiencies, and government policies."
Two key findings in the NAHB's recent study indicate:
1) Builders and remodelers most often control the choice of building products. For building new construction, the builders make the choices 66% of the time. Home remodeling found that the remodelers make the decisions 56% of the time.
2) In general, the most common sources for products used in home building and remodeling are lumber yards, wholesale distributors, and specialty retailers.
After many timberland owners held back on lumber production, increased demand is encouraging them to harvest. Inside our U.S. borders, Hurricane Sandy definite placed a demand on our lumber supply. According to Forest2Market's Stumpage Price Database, the year-over-year change in the number of timber sales from 2009-2012 has been:
2009-2010: -6%
2010-2011: +2%
2011-2012: +13%
Lumber prices vary by region and local lumber pricing. Correspondingly, lumber cost indices vary; each are valid and important metrics on the data they measure.

As of Dec. 7, NAHB's Random Lengths Composite Price is $362, and CME Futures Price was $345.6. Prices are up from $254 and $228.5, respectively, a year ago.
As on Dec 10, NASDQ quoted lumber prices at $344.00, up from $250 a year ago.
As of Dec, Wood On Fire said the Weekly Rail traffic for Lumber & Wood Products increased. Combined North America Rail Volume for the week is 6,228 up by 10.3%. The four week moving average is 5,669 up by 6.9%. Week 48 cumulative total is 282,779 up by 10.2%.
On Friday, Dec.10, Woodworking network reported, "North American lumber supplies tightened - especially in Poplar, FAS/1F Red Oak, and #2&3A Common Red Oak and White Oak - and prices for many green and kiln-dried items moved higher". September is the latest month of available trade data. U.S. hardwood lumber exports totaled 113 million board feet (MMBF), a 21% increase over September 2011.
Gold Beach Lumber puts out a weekly price report and urges home builders to always buy sufficient lumber materials the first time around as "The wild card is export business". West Coast Lumber was holding pattern for lumber prices, while lumber rose nationally, continuing its upward pace. With an increased demand for U.S. lumber from overseas, Gold Beach is questioning if the our lumber supply will face a shortage, which could drive the lumber costs higher in 2013.
The difference between construction cost index (CCI) and building cost index (BCI) is when you add in the cost of labor. According to The Engineering News Record, "The CCI uses 200 hours of common labor, multiplied by the 20-city average rate for wages and fringe benefits. The BCI uses 68.38 hours of skilled labor, multiplied by the 20-city wage- fringe average for three trades:"
bricklayers
carpenters
structural ironworkers
For their materials component, both indexes are determined by calculating 25 cwt of fabricated standard structural steel at the 20-city average price, 1.128 tons of bulk portland cement priced locally and 1,088 board ft of 2x4 lumber priced locally. The ENR indexes measure how much it costs to purchase such a hypothetical package of raw building material goods compared to what it was in the base year.
"The quality of a Destiny Home build or home renovation is a number-one priority, and choosing the best lumber source is part of why our homes perform well above the building code standard as a result of our focus on quality, luxury homes", states Sprenger. Call Butch at 952-934-5706 to schedule a time to meet and get answers that help homeowners make well informed decisions.