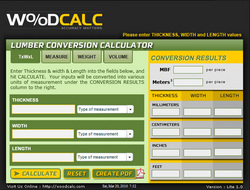 Our Office Productivity Increased the Instant We Started Using This Lumber Calculator
Bellevue, WA (PRWEB) March 22, 2010
Converting measurements between imperial and metric has never been easier. WoodCalc's lumber calculator eliminates errors and saves times when working with various units of measurement. The lumber calculator has several lumber specific features including: calculating MBF, calculating cubic meters, converting from imperial to metric, and metric to imperial.
Using the lumber calculator is easy and requires no special computer or lumber experience. It is simple enough for office assistants while providing all the features of the most comprehensive lumber calculators.
WoodCalc.com is currently offering a FREE Trial of their lumber calculator on their website at http://woodcalc.com.
The lumber calculator boasts four individual conversion tabs: TxWxL tab, Measure tab, Weight tab, and Volume tab.
TxWxL stands for Thickness, Width, and Length. This tab enables users to instantly convert between units of measurement while simultaneously calculating MBF and Cubic Feet.
The Measure tab allows users to convert one unit of measure to another (i.e. mm to inches).
The Weight tab converts any weight measurement between kilograms, metric tons, and pounds.
Finally, the volume tab enables users to convert between cubic meters and cubic feet.
WoodCalc's lumber calculator is smart enough to automatically convert your original value to all possible conversion with a single mouse click.
The beautiful design and ease of use make this lumber calculator an instant necessity for anyone in the lumber industry.
ABOUT WOODCALC.COM
WoodCalc.com created the WoodCalc Lumber Conversion Calculator. Based in Bellevue, WA, WoodCalc.com provides software solutions to the wood and lumber industry. Additional company information may be found online at http://woodcalc.com
# # #