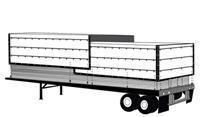 We are pleased to expand our product line to provide durable tarping solutions to these important markets.
El Cajon, CA (PRWEB) May 19, 2008 -
Pulltarps Manufacturing recently announced the addition of two new products to its line of high-quality tarping solutions-- lumber tarps and waste industry tarps. The new tarps are now available for shipment from California, Denver and Ohio locations. Reduced-freight rates and next-day shipping are available for all orders.
"Pulltarps has always been committed to bringing premium products to the marketplace," said Rick Cerda, Sales Manager. "We are pleased to expand our product line to provide durable tarping solutions to these important markets."
The lumber tarps from Pulltarps are a lightweight product that can be used to secure and protect cargo on flatbed trailers. Weighing just 98 pounds, they have 18 ounce vinyl on top and 14 ounce vinyl sides. Pulltarps' lumber tarps are also waterproof and feature sturdy construction with:

An overlapping design that creates better sealing
Hems reinforced with 2-inch webbing and double stitching
Solid brass grommets every 2 feet around the edge
Three rows of 2-inch D Rings box stitched with protection flaps
The waste tarps manufactured by Pulltarps are also constructed for durability and high performance. These heavy-duty mesh tarps have a large reinforced arm pocket at the rear, grommets every 3 feet along the edges and double lock stitching for added strength. They are ideal for rolloffs, hook lifts and lugger box applications and they can serve as replacements for any brand of automatic tarper for the waste industry.
The expansion of Pulltarps' product line is significant because it broadens the company's role as a leading provider of cost-effective tarps for the construction industry. Pulltarp has made its mark in the industry by offering a full array of advance tarping solutions for covering dump trucks and dump trailers.
In fact, the Pulltarps brand has become a common reference for all tarps because of its reputation for selling quality tarping systems that are built to last.
For more information about the company or its new tarping products, contact Rick Cerda or visit http://www.pulltarps.com.
About Pulltarps Inc.
Pulltarps Manufacturing has been creating high-quality, reliable and cost-effective tarp systems for the construction industry since 1989. The company's flagship line of tarping solutions for dump trucks and trailers feature the latest technology, such as electric and manual arm tarp systems, cable tarp systems, and manual or electric Pulltarps. Pulltarps invented the "Pulltarp" Semi-Automatic window shade style dump truck tarp systems to make tarping safer, faster and easier. The system is unique because it is the only one in the industry that features a fully welded 12-gauge-steel housing and Pulltarp's exclusive external ratchet adjustment. Based in El Cajon, Calif., Pulltarps is a privately-owned company that has established itself as an innovator of tarps and tarping systems.
Contact:
Rick Cerda
Sales Manager
619-449-8860
###