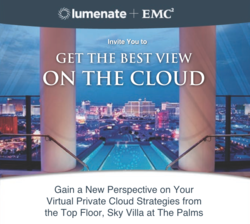 (PRWEB) May 04, 2013
Lumenate, a recognized technical consulting innovator, will be hosting a very special event at the Palms Casino Resort during EMC World 2013 in Las Vegas (May 6-9). The senior leadership teams of Lumenate and EMC will provide customers and prospects with a "new perspective" on virtual private cloud strategies, from the two-story, ex-Hugh Hefner Sky Villa. The event combines industry-leading innovators sharing the latest in cloud technologies — alongside premier Vegas style entertainment. This invitation-only event on May 7 is one of the hottest tickets during EMC World, the industry's highly rated annual conference.
"Attending EMC World and hosting this event allows us to communicate our perspective on cloud strategies to valued customers and prospects – and explain Lumenate's unique approach in our industry," said Tim Barto, VP of Marketing at Lumenate. "Ultimately, our customers will benefit since we will be better able to address innovative solutions that address the rapidly changing challenges they face on an ongoing basis."
With particular expertise in the storage, virtualization, networking and data center industry, Lumenate has recently expanded with a series of acquisitions. In the past 16 months, Lumenate has acquired Texas-based network security solutions firm ANI Direct, Houston-based network and security solutions firm Troubadour Ltd. and Marlborough, MA-based, International Computerware, Inc. to greatly expand its knowledge base and geographic reach. These additions have strengthened the company's commitment to helping customers adopt cost reducing next-generation converged infrastructures and cloud-based computing models.
Lumenate's North East office (formerly ICI America) has been named EMC's Velocity Quality Services Partners five years straight, with their sights set on acquiring this prize again at this year's awards ceremony. According to Lumenate RVP, Jamie Shepard, " This is no small feat considering it is an independently polled customer satisfaction survey. We're very proud of our EMC customer accomplishments and look forward to spreading our success in New England to the rest of the company and country."
About Lumenate: Lumenate is a Technical Consulting Firm focused on enabling the Virtualized Enterprise with Disciplines in Storage, Virtualization, Networking and End-to-End Security. Headquartered in Dallas, Texas, Lumenate has offices throughout the Southwest and Northeast serving customers nationally and internationally. For more information about Lumenate visit http://www.lumenate.com or contact: tim.barto(at)lumenate(dot)com