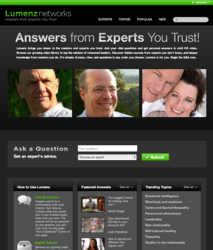 Together, the six experts featured now on Lumenz Networks represent book sales of over 8,000,000 units and an aggregate community of 30,000,000 followers.
Los Angeles, CA (PRWEB) August 23, 2012
Four new top-tier experts join the LumenzNetworks.com lineup this month offering insight on stress management, mind and body health, intimacy, relationships, and more.
Dr. Bernie Siegel, named one of the top 20 Most Spiritually Influential Living People by the Watkins Review, discusses integrative approaches to healing the mind, body, and soul.
Eva and Wolfram Zurhorst, Germany's best-known relationship experts, share their perspective on the keys to a successful partnership.
Lisa Schrader, whose work has been featured on Oprah, the Oxygen channel, and VH1, advises on Tantra and intimacy.
Dr. Joan Borysenko, author of 15 books including the New York Times bestseller Minding the Body, Mending the Mind, brings her expertise on stress management, spirituality, and healing.
These new additions follow Joshua Freedman advising Lumenz users on career development with Emotional Intelligence (EQ), and Dr. Rupert Sheldrake explaining his New Sciences research. Together, the six experts featured now on Lumenz Networks represent book sales of over 8,000,000 units and an aggregate community of 30,000,000 followers. Lumenz aims to recruit several hundred renowned experts from around the globe to build an extensive library of visual mentorship, accumulating an ever-expanding inventory of expertise personally communicated by published luminaries in a wide variety of fields.
"My speaking, consulting and travel schedule make it impossible to keep up with all the follow- up inquiries I get from people who have read my books and attended seminars, let alone the many new people interested in EQ and how to hone it," said Joshua Freedman, leading authority on Emotional Intelligence and COO of Six Seconds. "Lumenz Networks allows me to give a thorough, considered answer to specific questions from members of my community, making the exchange distinctly more personal -- and yet useful to the entire community -- than if I simply tried to answer emails." Watch a video from the Lumenz Networks site of Josh Freedman explaining why change is difficult in organizations.
Lumenz maintains ongoing partnerships with its member experts to provide a steady supply of fresh HD video clips answering questions asked by site subscribers. Each expert's video library will expand at an average rate of 50 additional answer clips per month.
How Lumenz works
Anyone interested in advice or answers from hosted experts can search the existing library for answers, or submit questions for mentors to answer personally. The videos are produced to uniformly high quality standards by Lumenz, and the topics are primarily shaped by subscriber interests. On average, each expert will be recorded ten times per year answering 40 – 60 new questions submitted by Lumenz subscribers. This Q&A format enables fans to personally engage their chosen mentors, with the whole community benefiting from the wisdom revealed.
"In challenging times, more people are seeking expertise and guidance from their chosen mentors, with more ways to satisfy their desire for personal access and a more intimate conversation," said Phil Ressler, CEO of Lumenz Networks. "However, it's not practical for published mentors to give every fan impromptu personal attention, so Lumenz bridges that gap. Experts and mentors can now build their communities through ongoing Q&A and the personal projection intrinsic to HD video. It's a uniquely personal way for mentors to enable their followers to start and continue an extended conversation that's also preserved to educate others."
When subscribers watch videos, the Lumenz recommendation engine mines the full cache of accumulated wisdom from all experts to offer additional videos finely-matched to a subscriber's interests. New visitors can sign up for one free three-day trial with full browsing access and rights to watch any ten videos in their entirety, no credit card needed. Payment options range from $1.99 for a single video to $29.85 for a month of unlimited access.
About Lumenz Networks
Lumenz Networks, based in Los Angeles, CA, USA, was founded in Austria by Hubert Hofmann, Johannes Koch, and Michael Meirer, where its European operation (Lumenz Networks GmbH) is located. The company connects special interest audiences with the mentors and experts who guide them, offering a unique Internet platform for cataloging and accumulating expert answers to fans' and followers' questions about research, science, professional development and personal well-being, in searchable HD video.
Demand for Lumenz is fueled by widespread hunger for guidance and leadership. Americans alone spent $11 billion in 2008 on self-improvement books, CDs, seminars, coaching and stress- management programs -- 13.6% more than they did in 2005, according to Marketdata Enterprises. Marketdata's last forecast for the self-improvement media market projected 6.2% annual growth through 2012. This self-help sector in the leaders and experts market has proven resilient, having grown throughout the post-2008 economic crisis. However, Lumenz will host experts and content beyond the self-help market, leveraging the steady expansion of academic and professional experts who are popularizing sciences, medicine, politics, philosophy and religion outside their research and classrooms.
Lumenz Networks is a trademark of Lumenz Networks, Inc. Other registered trademarks and trademarks are the property of their respective holders. © 2012 Lumenz Networks, Inc.