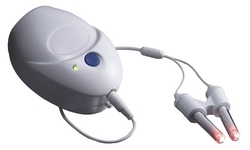 Lumie remains specialised in high quality light based treatments that offer consumers an alternative to taking medications, which can cause problematic side effects.
(PRWeb UK) July 6, 2010
Undoubtedly one of the few irritating things about summer is hay fever; it causes nuisance to approximately 20 per cent of the UK population and affects everyone from young children to the elderly. Lumie, a British company with over 18 years experience in light therapy has launched Lumie Haylight, a new medical device that is proven to provide safe, fast-acting relief to hay fever sufferers.
New Lumie Haylight is an all-in-one alternative treatment to eye drops, nasal sprays and antihistamines. Using two intranasal tubes, it emits two types of red light directly on to the membranes inside the nose which immediately reduce histamine production. Based on scientific research, Lumie Haylight works in minutes to ease streaming noses, sneezing and irritable eyes.
Hay fever (or seasonal allergic rhinitis) is caused by allergens that are present in the air; in this case tiny particles of pollen. When the pollen comes into contact with the body, it can cause an allergic reaction to occur as the body believes it is under attack and overproduces a chemical called histamine. It is the histamine that triggers hay fever symptoms, causing people to suffer from sneezing, runny noses and irritable eyes.
Antihistamines have long been the most popular form of treatment for hay fever, but this arguably has been due to the lack of suitable alternatives. Many allergy medications can have nasty side effects, including drowsiness. The inconvenience caused by such treatments was evident in a recent case study: "Symptomatic allergic rhinitis and rhinitis medication use are associated with a significantly increased risk of unexpectedly dropping a grade in summer examinations" . Other methods of fighting allergic rhinitis include steroids and decongestants, but the former often lead to rebound nasal congestion and the latter need to be taken for several weeks to achieve any sort of result.
It is only very recent research that has demonstrated light therapy as being effective in treating allergic conditions. Intranasal therapy of this kind, received from a device which emits red light, has shown extremely positive results in treating those that suffer from hay fever – even those that do not respond at all to antihistamines.
Jonathan Cridland, CEO of Lumie, said: "The application of light therapy for health and wellbeing has grown considerably of recent years and we hope that products like Lumie Haylight can provide people the freedom to enjoy their summer again, rather than hide away behind closed doors.
"Another tool that can help people cope through the hay fever season is the pollen forecast. Updated three times a day, forecasts can be found on the Met Office website at http://www.metoffice.gov.uk, to help everyone to stay informed of the expected conditions outside.
"Lumie remains specialised in high quality light based treatments that offer consumers an alternative to taking medications, which can cause problematic side effects."
ENDS
If you would like any further information, access to scientific research or comments from academic experts, please do not hesitate to contact the Lumie press office on 01954 780 500.
Notes to Editor:
Source: NHS http://www.nhs.uk/Conditions/Hay-fever/Pages/Introduction.aspx
Pub Med: Seasonal allergic rhinitis is associated with a detrimental effect on examination performance in United Kingdom teenagers: case-study control. Walker S, Khan-Wasti S, Fletcher M, Cullinan P, Harris J, Sheikh A.
Featured light therapy / hay fever reach from http://www.lumie.com: http://www.lumie.com/help/research-abstracts/hay-fever
About Lumie:
Lumie is Europe's market leader in light therapy and produce a range of products, including Bodyclock dawn simulators, lightboxes, visors and LED lights for acne and hayfever, all of which are certified as a medical device. As well as providing relief to sufferers of mood disorders (such as Seasonal Affective Disorder (SAD) and the winter blues), light therapy can also be used to boost energy levels, improve sleep patterns, correct body clock problems like jet lag, provide treatment to skin conditions like acne and relieves symptoms of hayfever.
A British company based in Cambridge, Lumie has over 18 years experience in light therapy and pioneered the first ever dawn simulator (sometimes referred to as a wake-up light) in the market.
Lumie has earned the respect of the medical profession by constantly evolving its portfolio of products based on new developments in scientific evidence and clinical trials. It is a massive success in the mainstream health and wellbeing arena and the Bodyclock dawn simulator range is fast-becoming the world's best-selling form of light therapy. As well, Lumie also prides itself on providing the highest level of personalised care to its customers, through its customer care team and with the internet forum.
###