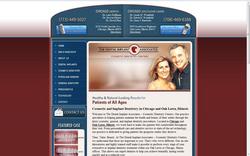 Chicago, IL (Vocus) July 27, 2009
The Dental Implant Associates, a dentistry practice in the Chicago area, sees a lot of patients come in to their offices who are stricken with fear of what will happen to them once they sit in the dentist's chair. Like a lot of dental patients, many of them are looking to correct common aesthetic problems with the teeth such as chips, cracks, and stains; however, the idea of numbing shots or a drill coming at their teeth are enough to make them skip treatment altogether, making the problem worse. For the last six years, The Dental Implant Associates, specializing in cosmetic dentistry and dental implants in Chicago, has been a Preferred Provider of Lumineers® dental veneers, a long-lasting alternative to porcelain veneers that involves no drilling, no shots, and less office visits than other procedures.
Traditional dental veneers are effective at masking teeth problems such as discoloration, chips, gaps, and misalignment; however, they often require at least three visits to the dentist and a somewhat painful process of numbing injections and grinding down the affected tooth to make way for a permanent replacement veneer. Lumineers®, from Den-Mat Holdings, offer many of the same benefits, but with some significant differences. At The Dental Implant Associates' Chicago Lumineers® practice, cosmetic dentists do not need to use needles and drills during treatment. Since Lumineers® are ultra-thin, about the size of a contact lens, they are placed over the existing teeth as they are – reshaping the tooth is not necessary. The Lumineers® process typically involves only two appointments: one to take an impression of the teeth; and another to bond the Lumineer® onto the tooth and polish it. Doctors with The Dental Implant Associates say that, with a Lumineer®, the tooth can look natural with the surrounding teeth, feel comfortable, and result in no pain or sensitivity during or after the procedure.
Lumineers® are not for everyone, particularly patients with extremely damaged teeth who would benefit more from porcelain dental veneers or other options. But Lumineers® can address many milder forms of tooth damage and discoloration, and they can last for up to 20 years or more. For patients who are unsure about Lumineers®, The Dental Implant Associates can provide them with another innovative option: 3D imaging. With the LUMIsmile Digital Imaging system, the patient's picture is taken and then digitally retouched to reflect the likely outcome if he or she has a Lumineer® placed onto their tooth. It can't predict the future, but it can give patients a clearer idea of how the Lumineer® can improve the appearance of their teeth before they even have the procedure.
Lumineers® are just one of the many ways Dental Implant Associates tries to keep ahead of the game in dental technology, and keeping smiles as healthy and bright as possible.
About The Dental Implant Associates
The Dental Implant Associates offers two convenient, state-of-the-art facilities in the Chicago and Oak Lawn, Illinois area. The North Chicago location is overseen by Larry Hoffman, DDS, Steven Flicker, DDS, and David Sher, DDS – all members of the American Academy of Implant Dentistry. At the Oak Lawn location, Dr. Linda M. Weinfield and Dr. Edwin E. Weinfield are both members of the American Board of Oral Implantology and the American Academy of Implant Dentistry, and Dr. Linas J. Bartuska is a member of Omicron Kappa Upsilon, a National Dental Honor Society in which fewer than 10 percent of all dentists have been elected. The Chicago implant and cosmetic dentists at The Dental Implant Associates comprise more than 100 combined years of experience. They provide comprehensive dental treatment in a spacious, comfortable office setting designed to ease any tensions and anxieties patients may have.
For more information on The Dental Implant Associates, the practice can be contacted at either of its two locations: North Chicago, 6258 North Lincoln Avenue, Chicago, Illinois, 60659 – (773) 449-5037; or South Chicago – Oak Lawn, 9839 Southwest Highway, Oak Lawn Illinois, 60453 – (708) 469-6338. The offices can also be contacted via website at http://www.dentalimplantassociates.com.
###