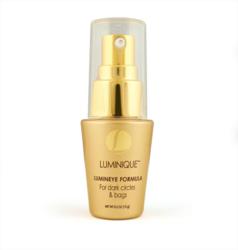 New York, New York (Vocus/PRWEB) February 22, 2011
As health and beauty experts attempt to create the fountain of youth, scientists create a variety of products that are designed to reduce the signs of aging and promote an overall younger and healthier look. Constant technological strides have resulted in the industry's ability to continuously produce skin-care products that provide better results than previous products. These new and emerging brands are changing the face of skin care and consumers are currently anticipating the launch of the new Luminique™ skin-care line.
The Luminique™ Age-Defying Complex is enriched with Trisome Plus Complex™, a blend of marine botanicals that helps reduce the appearance of sun damage. It's paraben-free and provides protection with SPF 15 and don't forget the Lumineye Formula™. Lumineye™ Formula also contains the Trisome Plus Complex™ to reduce the appearance of dark circles, bags, crow's feet, fine lines and wrinkles.
Luminique™ also offers scientifically-formulated cleansing and toning products.
Discover Luminique™ to minimize the appearance of sun damage for younger and more radiant-looking skin.
###