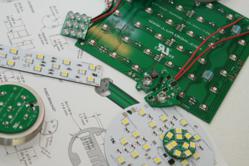 Manufacture LED Lighting, made in USA since 2001
Miami, Florida (PRWEB) August 03, 2012
With so much focus on saving energy in residential, commercial, and marine applications these days, Lumiron's dedication as a top quality LED lighting manufacturer to providing only the very best in LED engineering and design certainly gives the company an edge in an increasingly competitive market. Based in Miami, Florida, the company specializes in creating custom products that are designed, engineered, and made in the USA. The product selection offered by the company is quite vast, and from marine lighting to residential and architectural lighting, the team's engineers certainly make the most of their more than 25 years of industry experience. Now, the company is proud to introduce the Rondo 155R CW/WW, LED lighting made in the USA for boats, homes, commercial applications, and more.
The Rondo high power LED lighting series is certainly helping to set Lumiron apart from their competition. These round lighting modules have a wide range of applications in the marine industry as well as in commercial and industrial lighting. Designed for both new builds and retrofit lighting alike, the Rondo Series couples well with many of Lumiron's vast selection of controllers and dimmers. The 155R offers consumers the ability to choose exactly the shade of white they wish to use, with options ranging from 2700k to 6500k and plenty of choices in between. The light is completely dimmable and is made with a single multi-chip High Power Cree LED. Available from 12 to 36 volts, the Rondo 155R is ideal for residential, architectural, RV, and marine lighting.
Innovation and quality are cornerstones of the Lumiron business model, and they have been designing, engineering, and manufacturing all of their products in their Miami location since 2001. The company offers a wide range of both new installation products and retrofit modules and lamps, ensuring that all customers are able to find residential, commercial, and marine LED lighting to fit their needs. Lumiron also offers full product lines that range from low to high powered LED lighting, as well as the ability to create custom products upon request.
In today's world, consumers have many choices for LED lighting for saving energy, and a great product series alone isn't enough to put a company at the top of their industry. Lumiron products have many advantages over traditional lighting and even over many other modules and products in the LED lighting industry. In addition to being far safer for both humans and the environment than traditional forms of lighting, LED products from Lumiron are designed to be long lasting and maintenance free. All of the company's products are made in the USA and are engineered and manufactured using the strictest possible standards of quality control. Low energy consumption can help users save considerably on electricity costs, while also keeping the lights cool to the touch. The lack of heat, combined with a pleasant ambiance, makes residential, marine, and architectural LED lighting from Lumiron ideal even for areas where the heat of traditional lamps and bulbs makes lighting impossible.
About Lumiron
With a team of engineers and specialists who have been in the LED industry since 1984, Lumiron is a leading LED lighting manufacturer and designer. Headquartered in Miami, Florida, Lumiron is founded on providing the highest caliber of customer care and product quality and works hard to deliver innovative LED products designed and manufactured using the highest possible standards of quality control. For more information about Lumiron and their unique selection of custom and manufactured LED lighting products, please visit Lumiron.com or call 305-652-2599.