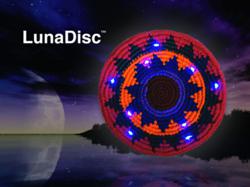 Our commitment is to make sure each of our products are made within safe and fair working conditions. We are proud to be a part of the Fair Trade Federation and want Kickstarters to know they are supporting a great cause as well," says Patrick Groft
Charlotte, N.C. (PRWEB) June 15, 2012
Phd Productions, creators of the Pocket Disc and the first company to make crocheted flying discs, launched their first Kickstarter campaign today in order to raise at least $50,000 to fund the mass production of a new product known as LunaDisc.
The LunaDisc is a new variation of the company's popular Pocket Disc, a 100% cotton, crocheted colorful flying disc. The original Pocket Disc is soft enough to be thrown indoors as well and outdoors. With the LunaDisc, the creators have added new LED lights to make it a fun toy to use both night and day.
The company is also committed to Fair Trade, having worked several years with Mayan tribes in Guatemala who produce the company's products by hand.
The circular crochet technique used to make the Pocket Disc and LunaDisc is fine-tuned by the Mayan workers, who have been weaving and crocheting bright patterns for centuries and bring a deep cultural talent in each Pocket Disc, LunaDisc and assorted other products offered by the company.
"We want to highlight the rewards on Kickstarter with something fun, colorful and safe," says Patrick Groft, co-founder of Phd Productions. "Our commitment is to make sure each of our products are made within safe and fair working conditions. We are proud to be a part of the Fair Trade Federation and want Kickstarters to know they are supporting a great cause as well."
The Pocket Disc is already available in some stores throughout the United States, but will be more widely available after funding. Many early adopters have already enjoyed playing with the portable and flexible Pocket Disc indoors and outdoors as a way to relax and have fun together.
"We are excited about the Kickstarter campaign and know the backers will be great ambassadors for us as we move forward," Groft said. "We've been working on this for a few years, and support thus far has been encouraging."
The Kickstarter campaign will last 50 days and Phd Productions will begin production shortly after reaching the goal.
About Pocket Disc
Phd Productions is based in North Carolina. Pocket Discs can be purchased at a variety of retailers nationwide including Eastern Mountain Sports, Learning Express Toys, many independent Play-It-Again Sports and over 1,500 specialty toy, gift and outdoor retailers. For more information and a store locator visit http://www.pocketdisc.com.