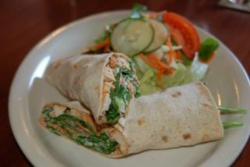 In addition to these salads and pizza delivery, Pizz'a Chicago also offers lunch catering for larger parties, including birthday parties, luncheons, corporate meetings and private gatherings
Palo Alto, CA (PRWEB) September 14, 2012
Featuring Palo Alto and San Jose's best Chicago-style, deep dish pizza, Pizz'a Chicago is now offering new summer menu items, including salads, sandwiches and wraps for $11.95. Orders can be dine-in, take-out or delivery at both locations.
The new menu items currently available are meaty mushroom salad, veggie lovers salad, chicken pesto sandwich, BBQ chicken wrap and shrimp caesar wrap.
The meaty mushroom salad is made with crisp romaine lettuce; a mushroom blend of shiitake, marinated Portobello and button mushrooms; diced tomatoes; shredded carrots; sun-dried tomatoes; toasted almonds; and sprigs of cilantro--all tossed in a soy ginger dressing.
The veggie lovers salad features hearts of romaine, baby spinach with roasted zucchini, red bell peppers, sun-dried tomatoes, julienned red onions, diced avocado, artichoke hearts and feta cheese in a red wine basil vinaigrette.
The chicken pesto sandwich is a ciabatta stuffed with grilled garlic marinated chicken, baby spinach, juicy tomatoes, artichoke hearts, roasted garlic, caramelized onions and a pesto aioli.
The BBQ chicken wrap is on whole wheat flat bread and draped with baby spinach, diced BBQ chicken, provolone cheese, shredded carrots, house-made ranch dressing and caramelized onions.
The shrimp caesar wrap is a spinach tortilla filled with pesto, crisp romaine lettuce, Gulf shrimp, house-made Caesar dressing, diced tomatoes and parmesan cheese.
"In addition to these salads and pizza delivery, Pizz'a Chicago also offers lunch catering for larger parties, including birthday parties, luncheons, corporate meetings and private gatherings. Pizz'a Chicago has banquet facilities for parties of up to 60 people," Juan Lorenzo of Pizz'a Chicago Palo Alto and San Jose said.
For more information about its products and services, please view the pizzeria on the Web at http://www.pizzachicago.com. In Palo Alto, Pizz'a Chicago is located at 4115 El Camino Real, 650-424-9400; and in San Jose at 155 W. San Fernando, 408-283-9400.
About Pizz'a Chicago Palo Alto and San Jose
Pizz'a Chicago, serving Palo Alto and San Jose for 16 years and voted No. 1 pizza in Santa Clara County, uses only high-quality ingredients on its pizza--its cheese is the best mozzarella on the market, it grates fresh parmesan at the table, and its sauce is made without preservatives. Moreover, the unique crust of its deep dish pizza sets it apart--made from corn meal, it is crunchy on the outside yet light and fluffy inside and less heavy compared to the rest. Pizz'a Chicago Palo Alto and San Jose has a pizza delivery and offers lunch catering service.