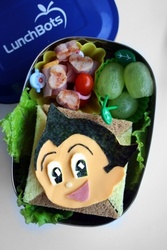 Presentation matters! What child wouldn't prefer a fun lunch in a beautiful container over something tossed in a plastic baggie?
Palo Alto, CA (PRWEB) July 20, 2010
LunchBots are colorful stainless steel lunch and snack containers. They offer utility, durability, and eco-friendliness without the harmful chemicals present in plastic containers. Moms who are passionate about the health of their children turn to LunchBots in order to avoid using plastic.
As a large fan community emerged for LunchBots on Facebook, more and more moms began posting photos of their children's school lunches prepared in the attractive LunchBots containers. What began as a simple sharing quickly became a competition to see who could create the most amazing looking school lunch. Creative moms took the art of food presentation to a new level with LunchBots. In an effort to get their kids to eat a healthy school lunch, these moms have inadvertently created a new art form. Lian Ng is the winner of the LunchBots School Lunch Art Award for 2010.
"We all know presentation matters in our fine dining experiences" said Lian Ng. "What child wouldn't prefer a happy face sandwich with carrot eyes and a red pepper mouth in a beautiful container over a few slices of bread and meat tossed in a plastic baggie?"
"When Lian started sending us pictures of her artistic lunches in LunchBots stainless steel containers, we were blown away by her creativity and talent" said Jacqueline Linder, CEO of LunchBots. "Her son is now eating way more vegetables and fruits because they look amazing."
Hundreds of other entries can be viewed on the LunchBots gallery. Lian's work can be viewed at her website.
LunchBots are popular offerings in natural food stores around the country including Whole Foods Markets, New Seasons Markets, New Leaf Markets, and hundreds of other independent stores (see directory).
###