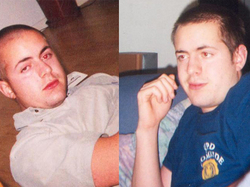 I knew that the issue was coming out because of the interview with the publication, but as soon as it reached the shelves my web site went upside down. The response has been immense and am now having to take extra time away from my Personal Training to respond to comments from customers
Exeter, UK, (PRWEB) September 14, 2008
Once overweight and bullied at school, Simon Lovell changed his life around and decided he wanted to help overweight people. Never did he realize just the impact he would have on American women. His internet e-book, The Lunch Box Diet which in a recent edition of the nation's weekly Woman's World Magazine (Sept 15th Issue) reviewers said produced 'gold star results' was featured on the cover and Simon was flocked with visitors.
Simon, who is now regularly featured in the UK media for producing the diet, hit the spot with US dieters in the weekly magazine after the publication's editors happen to stumble across the web site on the internet.
"It's all gone a bit mad" says Simon. "I knew that the issue was coming out because of the interview with the publication, but as soon as it reached the shelves my web site went upside down. The response has been immense and am now having to take extra time away from my Personal Training to respond to comments from customers".
The Lunch Box Diet started as a simple three page document for Simon's clients and was first picked up by Elle Magazine in the UK calling it 'The Best Diet Ever' and 'A way of Life'. Simon has subsequently signed a six figure publishing deal with Harper Collins in the UK thanks to the eating plan's super-healthy and simple approach to dieting.
The full feature on the diet can be found at http://www.lunchboxdiet.co.uk/inthemedia.ashx
Simon is now also working with top TV producers to develop dieting formats in the UK - Simon's showreel can be found at http://uk.youtube.com/watch?v=MmgpbQ6jf44
For more information please visit http://www.lunchboxdiet.co.uk or call Simon on 07786175118 or email simon@theheatfitness.co.uk to arrange an interview.
###