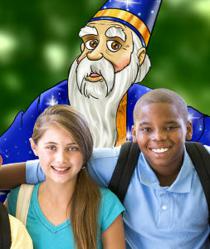 "Thank you for my special note Mommy!" - David, 9 years old
Austin, TX (PRWEB) May 25, 2011
Parents will pack thousands of lunches this summer as they send their children off to day camps. By signing up for free "Lunch Box Notes" from Adventures in Wisdom, the fun new life coaching program for kids, they can mentor their kids with every meal.
Each week parents receive an email containing five inspirational messages that they can print and personalize for each day's lunch. Or, they can opt to send the messages via email, text or voicemail.
"Lunch time is a great opportunity for parents to impart important life lessons in less than a minute each day," said Renaye Thornborrow, a certified coach, former marketing executive in the K-12 industry and mother of twins. "The conversation that parents spark with their kids during lunch can easily be continued at home while unpacking the lunch boxes – it's a great way for parents to connect with their kids and share their own wisdom as well."
Here are just a few examples of "Lunch Box Notes" that parents can sign up to receive for free every week.
1) "Limited expectations produce limited results. Expect great things of yourself and you will soar! – Wyatt the Wise Wizard ("Character Mentor" from the Adventures in Wisdom Program)….Fly baby fly!
2) "Every time you are with someone, you leave a "mark" based on how you treat them - treat others as you would like to be treated!" – Wyatt the Wise Wizard….What type of mark will you make today?
3) " You don't have to be great to start, but you have to start to be great." - Zig Ziglar….On your mark....get set.......GGGGOOOOOOOOOOO!
4) "If you ever need a zipadeedooo to lift a yucky mood, use gratitude! It will shift you right out of the grungies and into the smileys! - Wyatt the Wise Wizard….Are ya smiling?
Parents can sign up for Lunch Box Notes for free at http://www.AdventuresInWisdom.com/lunch-box and start empowering their kids one message at a time.
About Adventures in Wisdom
Based in Austin, Texas, Adventures in Wisdom is a breakthrough life coaching program for kids that uses short stories and activities to teach children ages 6-12 how to develop powerful self-esteem and self-confidence; achieve their goals; handle challenges in life such as fear, failure, and peer pressure; and create happy fulfilling lives. Kids learn over 25 critical life skills via ebooks or audio programs which can be completed while at home or in the car. For more information call 860-580-WISE or visit http://www.AdventuresInWisdom.com.
###