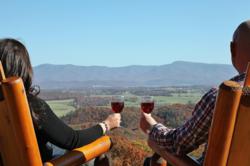 We've housed corporate retreats, embassy diplomatic parties, weddings, family reunions; you name it and we've hosted it.
Luray, VA (PRWEB) February 27, 2013
Luray, Va in Page County offers many year round activities. Centrally located in the heart of the Shenandoah Valley, most activities and attractions if not right in Page County are within a comfortable, scenic drive. There are golf courses, ski resorts, wineries, museums, restaurants and of course quaint shops, and there are also a number of natural attractions such as the Shenandoah River, Blue Ridge Mountains and several nationally famous caverns. Add the Shenandoah National Park, Skyline Drive and George Washington National Forest and Page County becomes the perfect Virginia vacation getaway.
Page County is located less than 2 hours from Washington DC, Northern Virginia and the Baltimore, MD metro area as well as the Richmond, VA metro area. Its location is convenient to international airports and only a short, scenic car drive for families throughout the region seeking a popular family retreat. In March, 2009, Page County was officially proclaimed as the Cabin Capital of Virginia and now welcomes year-round guests from all over the region and the world. Although, there are numerous vacation rentals to choose from, few match the comfort and convenience of Absolute Perfect Escape vacation log cabin rentals.
In Spring of 2006, Randy and Misty Howan of Howan Properties, Inc. opened the first of four cabins at Absolute Perfect Escape log cabins in Luray, Va. At the time they knew that Page County was home to a growing number of cabin rental companies, but they realized something was missing. "Everyone that Misty and I knew that was opening a vacation rental seemed to have something in common" said Howan. "Nobody was talking about accommodating larger groups, only cabins that sleep 2 to 6 guests." It was at this time that the Howans decided they wanted something different. The four log cabin lodges they built can accommodate much larger groups, and these are genuine log homes, not a fabricated imitation.
"We've housed corporate retreats, embassy diplomatic parties, weddings, family reunions; you name it and we've hosted it" said Howan. The log cabin lodges are secluded with stunning panoramic views of the Blue Ridge Mountains and Shenandoah Valley. They are four of the area's largest log cabins located on a single 25 acre site. Each cabin is within comfortable walking distance to the others, but they are in a wooded environment so each log cabin also offers privacy and seclusion. They all have decks with hot tubs and grills. There are swing sets for the kids and outdoor fire pits with benches. The inside of the log cabins is not what one would expect from a mountain cabin. Absolute Perfect Escape equals luxury. There are many bedrooms; most with private baths, individual game rooms in each of the four lodges, fully equipped kitchens, hardwood floors, granite countertops, impressive stone fireplaces, cathedral ceilings, 42" flat screen TVs and so many extras, this writer can't name them all.
"Misty and I believe that a vacation getaway should be an experience that doesn't sacrifice quality" said Howan. "We selected the 25 acre property because of its stunning views and decided to build only the best in comfort and amenities. Our log cabin lodges are some of if not the largest in the area. We've specialized in larger groups for the past 6 years and are thrilled at the demand for our mountain cabins."
The Howans also host smaller groups as well. With a base rate pricing model that adds additional fees per person staying overnight, they have found that even a couple or family of four like staying at the larger cabins. "I guess some of our guests just like the extra space."
In December of 2012, the Howans added another property to their vacation rentals; Hawksbill Retreat. It was formerly known as Jordan Hollow Inn. The property offers six one-bedroom log cabins with an open floor plan and one three bed-room log cabin. Hawksbill Retreat is 44 acres with many amenities as well. Read Hawksbill Retreat's profile and opening press release. Howan Property Inc. is a family owned company specializing in vacation rentals by owner.
To learn more about Absolute Perfect Escape or Hawksbill Retreat, visit the website http://www.absoluteperfectescape.net.