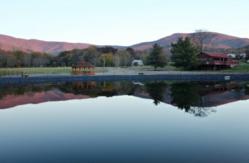 Misty and I realized that there was a need in this area for couples to have a romantic cabin getaway that is a bit more upscale than the many rustic family choices.
Luray, VA (PRWEB) January 07, 2013
After several months of remodeling, renovating and excavating, the eagerly awaited newest Luray, VA cabin rental is open. Hawksbill Retreat, formerly known as Jordan Hollow Inn just completed its first phase of development and is now renting cabins just in time for the ski season. Randy and Misty Howan of Howan Properties, Inc have added the 44 acre retreat to their already well-known and popular luxury cabins, Absolute Perfect Escape.
"For nearly six years we have been serving guests visiting the Luray, VA area with our luxury cabins, most designed to serve larger groups" said Randy Howan. "Misty and I realized that there was a need in this area for couples to have a romantic cabin getaway that is a bit more upscale than the many rustic family choices. However we also wanted to make sure smaller families of four or friends looking for that perfect, affordable Luray vacation rental could also visit a cabin that has all the amenities our guests have grown accustomed receiving. We believe Hawksbill Retreat will fill that void."
Hawksbill Retreat was born from the original and popular historic Jordan Hollow Inn. The property's original homestead and barn was built in 1785 and began serving overnight guests as early as 1815. It continued to operate as a vacationing destination through 2009. The original home, still standing today, eventually became part of the Farmhouse Restaurant, which is no longer operating. The property has served many guests throughout its history and due to its age has served in many capacities, including a field hospital during the civil war and even had part of a golf course added in the 1920s to serve Washington elite. Over the years a carriage house, larger inn and several other overnight cottages were added. When Randy and Misty Howan purchased the property in 2012, they knew that many improvements needed to be made so they started a development plan that includes multiple phases. Phase 1 is now complete and ready for occupancy.
Hawksbill Retreat features three one-bedroom luxury cabins that sleep 2, three one-bedroom luxury cabins that sleep 4 and one three-bedroom cabin that sleeps 8 guests. All of the cabins are newly remodeled and offer fully equipped kitchens with granite, hardwood floors and are fully furnished. They offer a dishwasher, washer/dryer, flat screen TVs, vaulted ceilings, covered porches with rockers, outdoor fire pit with bench seating and a private hot tub. The one-bedroom cabins are positioned so that they provide panoramic mountain views and have private parking. The three-bedroom cabin is located beside a 1 acre stocked fishing pond and of course has mountain views in every direction.
Hawksbill Retreat is conveniently located at the foothill of the Shenandoah National Park and can be easily accessed. The property is only minutes from Luray, Va and all of the attractions and shopping the area provides such as Luray Caverns, the Shenandoah River, and the Shenandoah National Park and is less than 30 minutes from Massanutten Ski Resort and only 45 minutes from Bryce Resort. Across the street from Hawksbill Retreat is a municipal park with an Olympic-size swimming pool and plenty to do for kids. On property there are over two miles of accessible walking trails, a stocked fishing pond and 44 acres of space to explore. Hawksbill Retreat is truly the best Luray, Va vacation rental for couples, friends or families, so if you are looking for the perfect location for a romantic and relaxing weekend getaway from the daily stresses of life or just a get together with family and friends, then Hawksbill Retreat is the perfect destination for you.
Hawksbill Retreat is beginning phase two of its property renovation where the original Jordan Hollow Inn will be made into a private eight-bedroom vacation rental adding another large vacation rental to the Luray, VA area; similar to the original Absolute Perfect Escape cabins. The Absolute Perfect Escape larger cabins (currently available) and the new eight-bedroom once completed are for parties of eight up to twenty-five and are perfect for family reunions, business retreats or for friends who want a luxury Luray vacation cabin rental.
To celebrate the opening of Hawksbill Retreat, during the months of January, February and March, 2013, guests will be able to rent two nights in any Hawksbill Retreat cabin, and they will receive the third night for free. The offer is not available on holiday weekends. To get more information about this discount vacation rental or to learn more about all of the cabins available, visit http://www.absoluteperfectescape.net.