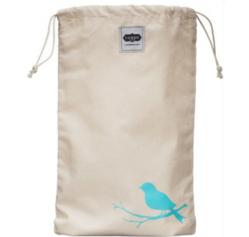 I am in love with Lusso Bags as a company because they are truly committed to serving a cause.
Los Angeles, California (PRWEB) January 16, 2013
Lusso Bags, featured in San Diego Magazine and on Lifestyle + Charity online magazine, gives women the chance to win a Lusso Bags accessory bag with Sweepstakes Ninja. Lusso Bags specializes in high-quality travel and tote bags for women. Sweepstakes Ninja gives consumers a chance to win cool products from Lusso Bags by clicking here.
Founded in 2010, Lusso Bags is company that not only specializes in really cool bags, but is also dedicated to helping women. Their products are made of eco-friendly and fair trade (ECOCERT) 100% organic cotton or laminated jute made by women that have found a new, more prosperous life as a seamstress. Each bag is sewn with love and care, and can shape up any woman's life; organize your shoes, lingerie, bathing suits, hair dryer, cosmetics/body care, accessories, and don't forget an empty for your laundry.
Sweepstakes Ninja gives people the chance to learn about unique companies such as Lusso Bags, while at the same time giving them the chance to win great prizes. People may enter the sweepstakes through the sweepstakes draws (http://sweepstakesninja.com/sweepstakesdraw/draw/lussobags-cosmetic-bags-travel-accessory-bags). They are daily entry draws that not only give people chances at winning amazing prizes, but also introduces unique companies to them. Through the sweepstakes draws, contestants have a chance of winning a Lusso Bags Mrs. Bird Bag.
The sweepstakes may be entered through the Sweepstakes Ninja website. To increase their chances of winning, entrants may share sweepstakes links with friends, family, and through social media. This is a win-win situation for both Lusso Bags and the entrant. Entrants increase their chances of winning award winning products, and more people learn about their line of Lusso Bags and their mission to help women.
About SweepstakesNinja.com
SweepstakesNinja.com designs fun and interactive sweepstakes. The company matches consumers with companies in a fun and interactive manner. Entrants have the chance of winning amazing prizes, and have fun participating in the sweepstakes. Companies benefit from exposure to their brands, word of mouth advertising, customer loyalty, and long term increases in profit. For more details, visit http://www.sweepstakesninja.com/.