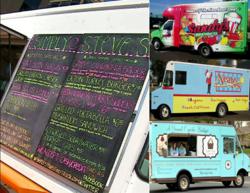 Mahtomedi, MN (PRWEB) May 31, 2013
St. Andrew's Lutheran Church is happy to announce some exciting new additions to their Wednesday night worship that takes place all year long every Wednesday 6:15 to 7 p.m.
In addition to the world-class musicians in worship every week, the new feature for the summer will be the presence of food trucks and family jumpity jumps from 5-8 p.m. every Wednesday starting June 5. Parishioners and guests can grab a blanket or chairs and join the church for "Wednesdays at St. Andrew's" through Aug. 28.
St. Andrew's encourages parishioners to bring friends and family and come down to the Sanctuary for worship from 6:15-7 p.m. The evenings are a fun-filled community event with fun jumps and activities for kids, as well as a worship service that has the community raving. With the addition of the food trucks, guests can come for the food and stay for the worship.
St. Andrew's Lutheran Church, located at 900 Stillwater Road, Mahtomedi, Minn., offers dozens of programs and worship opportunities for its parishioners. From Bible studies to choirs, to music lessons, group prayer groups, Sunday school, sports, and more, the church is a community filled with support, fun and worship. Their traditional worship uses the gifts of the nationally recognized Casavant Organ, stellar choirs and dynamic preaching. Their contemporary worship is an assembly of some of the best bluesy-rock in the state. Firm biblical preaching and weekly Holy Communion are offered to all people for a transformational experience that lasts a lifetime.
About the Church:
St. Andrew's is a community of faith that welcomes all. They invite individuals to come as they are. They are there to help people grow in faith and to equip them to use God-given gifts to make a difference in the world in the name of Christ. St. Andrew's is a participating member of the ELCA. Visit their website to see their schedule of events and worship http://www.saintandrews.org.