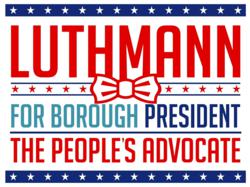 I am running to be the Borough President because the people of Staten Island deserve better choices than what the old party bosses on this Island serve up year in and year out.
Castleton Corners, Staten Island, New York (PRWEB) June 24, 2013
Staten Island Attorney Richard Luthmann is announcing he is formally kicking off his campaign for the Democratic Nomination for Office of Staten Island Borough President today.
Luthmann has collected more than the required 2,000 signatures to get on the ballot and will be filing with the City of New York's Board of Elections for the 2013 Democratic Primary for the Office of the Borough President. This means there will be a Democratic primary for the open seat to succeed the outgoing Borough President.
"I am thrilled that so many voters on Staten Island are already supporting my candidacy for Staten Island Borough President and I want to thank them and more importantly I am looking forward to working for them and representing them," said Richard Luthmann. "The collection of signatures is the first step in the process but without this nothing can go forward and that includes having the first Democrat in the Borough President's office in 30 years."
While the next reporting deadline for campaign contributions isn't until July 11th, Luthmann announced he has already collected substantial contributions and expects to have well over $10,000 from supporters Island-wide, which will qualify the campaign for matching funds.
"I am running to be the Borough President because the people of Staten Island deserve better choices than what the old party bosses on this Island serve up year in and year out," said Luthmann. "I want to be Staten Island's Borough President because I understand how use the position to advocate for Staten Island in a way that the entrenched political machinery has not been willing or able to do for the past 30 years."
Key among the positions that Luthmann will be working on include re-assessing property taxes and water bills, protecting Staten Island's shore line from future storms, finding sources for many needed capital projects and completing the light North Shore rail lines.
Luthmann says that transportation issues are a common complaint among Staten Islanders and he says it's another area he will focus on.
"It's easier to get to the Bronx than it is to get to Tottenville for many of the Island's residents and I want to fix that," says Luthmann. One of his ideas is to create a South Avenue Transportation Loop that more effectively connects North Shore, Mid-Island and express bus routes. Another is to re-examine an elevated Shore Road by-pass spanning from the Verrazano Narrows Bridge to the South Shore of Staten Island, thereby alleviating the major traffic congestion on Hylan Boulevard. He says these projects can be accomplished by municipal bonds and public-private partnerships including the proposed New York State Infrastructure Bank. The net result will be improved transportation, good jobs for Staten Island residents and increased access to local businesses.
Luthmann vows to also look into both the process and the fares for Staten Island bridges, including the Verrazano Narrows Bridge. With the highest rate of any bridge toll in the nation, Luthmann says more should be done for Staten Islanders. He added that Staten Islanders essentially pay more than other city residents for city transportation services and receive less in transportation services.
"I am a business owner," says Luthmann who has established his own law practice on Staten Island. "I have an advanced degree in tax planning. I know how to read and write a budget. But what is more, I understand that a budget - more than any other document - is a policy document that shows how a community chooses which people and which groups it values. The Borough President's first job is the management of the discretionary budget and I can translate policy decisions into budgetary terms. As an attorney, I understand what land owners go through with respect to City bureaucracy and their homes or businesses. I also understand economic development and how to best use lands to promote business and jobs."
About Richard A. Luthmann
Richard A. Luthmann was born and raised on Staten Island. His mother is a local business owner and a board member of the Staten Island Board of Realtors. His grandfather was a business owner and taught auto repair at Tottenville High School. His law offices are in Castleton Corners and he resides in Silver Lake. A graduate of Monsignor Farrell High School, he was captain of the wrestling team and a New York City wrestling champion. He was graduated from Columbia University, New York Law School and has an advanced law degree from the University of Miami. His legal practice includes estate planning, tax law and specialized litigation. He is a founding member and counsel to the Staten Island Hispanic Chamber of Commerce and has served as member, board member and or counsel to other organizations including, the Giving Hope Network, the Staten Island Economic Development Corporation's 40 Under 40 Leadership Group, the Community Agency for Senior Citizens, the Richmond County Kiwanis Club, the NYC Anti-Violence Project, the Carl V. Bini Memorial Fund, ACT UP and the newly-formed New Dorp Beach Civic Association.