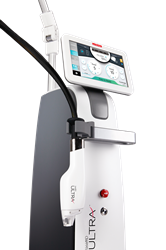 "LaseMD ULTRA is my favorite new addition to my practice. It allows me to treat multiple areas quickly, effectively and for very low cost," said Joel Cohen, M.D. "My patients love the comfortable treatments and impressive results with minimal downtime."
BOSTON (PRWEB) December 03, 2019
LUTRONIC, a leading developer of intelligent energy-based medical devices, will unveil the new LaseMD ULTRA™ this week, during live patient demonstrations at the Cosmetic Surgery Forum in Nashville, Tennessee.
"Lutronic's new LaseMD ULTRA is an impressive upgrade to their already successful LaseMD®," shared Steven Weiner, M.D. "Not only is it more powerful (20 watts vs 12 watts) but it also has a significantly lower consumable cost than competitive systems. The LaseMD ULTRA offers a new larger spot size and incorporates improved 'top hat' beam profile. The system also offers an incredibly advanced graphical user interface. The integration of all the new features with real-time information helps reduce treatment time and achieve satisfying patient results in fewer treatments. Since no anesthesia is required, I can treat a full face in about 6-8 minutes or treat the face, neck and chest in 20 minutes."
The LaseMD ULTRA is yet another example of Lutronic's commitment to Intelligent Design for Intelligent Care™

- Highest available power allows for fast treatments, customizable for multiple areas
- Gentle, effective global improvement for all skin types, all year-round
- Comfortable treatments with very little downtime
- Minimal cost of ownership, easy to delegate and no shot limit per procedure
"LaseMD ULTRA is my favorite new addition to my practice. It allows me to treat multiple areas quickly, effectively and for very low cost," said Joel Cohen, M.D. "My patients love the comfortable treatments and impressive results with minimal downtime."
The LaseMD ULTRA a high-power platform which provides a full range of applications in all skin types, including:

- Age spots (lentigos),
- Sunspots (solar lentigos),
- Freckles (ephilides),
- Actinic Keratoses, and
- treatment of other benign pigmented lesions.
"Customers love our original LaseMD system, so we will continue to manufacture them," said Jeff Knight, President at Lutronic. "To enhance the investments by practitioners who own our original LaseMD system, we are offering a special 'up-trade' opportunity toward a new LaseMD ULTRA platform. Sales representatives will be contacting current LaseMD owners to review the details of this offer."
This new platform will be presented at the Cosmetic Surgery Forum in Nashville, Dec. 5-7, 2019. Dr. Weiner will be performing live demonstrations of the LaseMD ULTRA on Thursday, Dec. 5 from 3-6 p.m. Please visit the Lutronic booth for more information.
Internationally, Lutronic submitted for European CE mark and Korean MFDS. Lutronic anticipates clearance in the first quarter of 2020.
To learn more about the new LaseMD ULTRA, visit: https://us.aesthetic.lutronic.com/us/products/lasemd-ultra
NOTE: Dr. Cohen and Dr. Weiner participated in Lutronic clinical trials and are paid consultants.
About LUTRONIC
Effective. Innovative. Intuitive. Dependable. These four core tenants fuel Lutronic's development of intelligent laser and energy-based systems. Committed to this mission, Lutronic partners with key opinion leaders to advance the scientific and efficacy of Lutronic's systems. To develop unrivaled systems with "smart" features, Lutronic devotes as much as four times what competitors invest in research and development, resulting in more than 535 patents and patent applications worldwide.
In addition to operations and manufacturing in the Boston area, Lutronic has a major manufacturing and research center in South Korea, offices in Germany, China, and Japan, and a worldwide network of ever-expanding direct sales teams and distributors.
©2019. LUTRONIC Group of Companies. All rights reserved. LUTRONIC, its logo, Lutronic Intelligent Care, Intelligent Design for Intelligent Care, LaseMD, and LaseMD ULTRA are trademarks or registered trademarks of the LUTRONIC Group of Companies. The LaseMD ULTRA system and its use are covered by one or more U.S. and foreign patents or patent applications pending.