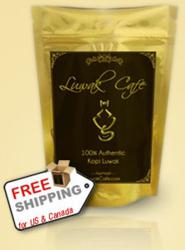 The Best Coffee in the World!
San Diego,CA (PRWEB) July 26, 2012
In only a few places of the world you might find high-end exotic beverages but none compare to our amazing Luwak Coffee. Its unique flavor and aroma are well appreciated by discriminating coffee lovers worldwide.
From the highlands of Indonesia, Luwak Cafe proudly offers 100% authentic Arabica and Robusta Kopi Luwak coffee for that special occasion or your everyday enjoyment. Luwak Coffee, also known as "Civet Coffee" or "Animal Coffee," is made from coffee bean berries that have been ingested by the Sumatran Asian palm civet. The civet selects only the ripest berries for their fleshy pulp. Then, proteolytic enzymes in its stomach modify the coffee bean enhancing its taste and aroma and the bean is excreted in whole. The beans are collected and thoroughly cleaned and roasted. The result is a non-bitter, smooth-tasting coffee with chocolaty notes that only this special process can provide.
Luwak Coffee, once known only in Indonesia as a local drink, has become a global discovery. This has led to a positive impact on local farmers and their families. Luwak Cafe sales provide these families with an income and help them escape poverty. We hope to secure a better life and future for their children. We are located in the United States to give you peace of mind when ordering.
For more information on Luwak Coffee go to their website: http://www.buyluwakkopi.com/.
Contact Information:
Rudy Altamirano
Luwak Cafe
info(at)luwakcafe(dot)com
(800) 883-3159
# # #