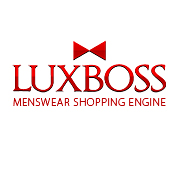 Luxboss saves at least 20 minutes of usual browsing for clothes. It is better to have everything at one place, than to check retailers' shops one by one
(PRWEB) September 15, 2011
It is a free shopping search engine of a new generation, dedicated to designer menswear, offering over 300 world-known brands. The outstanding growth of Luxboss is based on its wide collection of the fashion's industry most trusted online stores. Luxboss is proud to announce its new partner – BlueFly.com, an online retailer, providing yet another huge selection of quality men's apparel. This collaboration will bring to the comparison shopping engine of Luxboss over 3000 designer products for men, reaching the impressive number of over 20 000 selected branded products, available to customers. Luxboss' menswear collection includes clothing, footwear, accessories and jewelry for any occasion – formal, business, semi-formal, casual and sportswear.
The selection of products includes a rapidly growing variety of stores and brands. If you are looking for a place to offer you the best and the latest in menswear, along with fashion tips on how to wear, compare, match and shop, then look no further than Luxboss. It is a specialized shopping engine you would love to use. The most popular categories of Luxboss are shirts, ties, shoes, jackets, watches and men's rings. Luxboss is a good option for those of you who want to find the perfect gift for a man. You can find pieces of jewelry for weddings and anniversaries, as well as clothes for formal and casual events.
The shopping search engine of Luxboss guarantees easy and fast browsing through categories. Feel free to use the price filter too, because Luxboss offers clothes within a wide price range, complying with any taste or preference, as well as many offers and deals. Before making your purchases you can read the Tips section, a recently added feature, which will help you choose the best from the site. Visit http://www.Luxboss.com and try the tools for comparison and shopping. Save time and make your shopping experience easier, faster and more pleasant.
Our Facebook Page: https://www.facebook.com/Luxboss.net
###