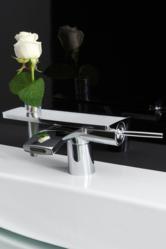 Really beautiful, luxurious bathroom faucets can go a long way toward making one feel prim and pampered every time.
(PRWEB) August 30, 2012
HomeThangs.com – the Home Improvement Super Store has made their goal to deliver the right product to the consumer, with that in mind, shopping and home design tips, as well as special product selections are being introduced.
A lot of things go into making a bathroom beautiful, but not all of it has to be big. Being in the middle of a major remodel and forgetting about the little things can be a huge mistake. Sometimes the smallest changes can have a huge impact on the overall look and feel of the bathroom, whether it's part of a larger redesign or all on its own. Bathroom faucets for example – they're small, and easy to install, but are probably the most used fixture in the whole bathroom. Really beautiful, luxurious bathroom faucets can go a long way toward making one feel prim and pampered every time – even without a lot of other updates.
It can be hard to find unique luxurious designs among the huge selection of bathroom faucets available on the market these days. In order to help the consumers satisfy their exclusive taste and find the fixture they really like, HomeThangs.com introduced a selection of some extraordinary bathroom faucets to fit the most upscale bathroom spaces.
1. An average lavatory faucet is pretty simple in design – one or two handles and a nice straight spigot that shoots water straight down. But "just a faucet" can become a unique, functional luxury item that not only looks great, but is enjoyable to use. For example, Brick Chic S3631/5 Faucet from Fima Carlo Frattini – it has all the basic parts, a handle and a spigot, but it's a wall mounted fixture – unusual for bathroom faucets – and is designed more like a tub filler than a tap faucet. Plus, instead of a regular spigot, it has a waterfall style tap that lets water fall naturally off the edge and into the sink, for an entirely different look and feel.
2. An even more typical waterfall-style bathroom faucet like the Kuatro Cascade from Roman Soler adds a certain unexpected something to a modern bathroom space. The flow of the water is more natural, and the open trough-style spigot lets one enjoy the beautiful movement of water, making this piece much more than just functional. The natural water contrasted with the highly geometric chrome design of the faucet itself makes this a perfect accent piece for a simple, stylish modern bathroom.
3. Of course, making the flow of water a unique and integral part of luxury bathroom faucets isn't limited merely to waterfall faucets. In fact, simply changing the shape of the water stream (in the case of the Arola Faucet from Ramon Soler, having a thin rectangular opening rather than a circular one) completely changes the aesthetic of the faucet. The conventional faucet handle is replaced with a small rotating band just beneath the spout to adjust the flow and temperature of the water. Not only does this create a lean, sleek form, but it's also great for an uncluttered modern aesthetic.
4. Some luxury bathroom faucets are considered deluxe for their design, plain and simple. For example, Tango faucet from Graff, is a cool re-imagining of average bathroom faucets. Instead of sitting close to the counter, this faucet is quite tall – big enough to comfortably accommodate a vessel sink – and instead of merging the hot and cold inlet lines into a single feed at the base, they continue up independently to mix only at the tap itself. That makes for a unique, leggy-looking bathroom faucet that's totally outside the norm.
5. Sometimes the simplest designs are the most stunning. The Eco faucet from Graff, for example, is little more than a smooth chrome cylinder bent at a sharp angle, but the unexpected minimalness of it is absolutely striking. Even in a bathroom that isn't especially modern, this faucet is a definite stand-out focal point, just because it is nothing like any average bathroom faucet. Plus, the futuristic looking joystick style handle makes for a unique finishing touch as well as an innovative user experience.
6. There are also luxurious bathroom faucets with some real vintage flair and detail. For example, Pompadour Faucet from Herbeau, that looks like it came straight out of Hearse Castle. After all, nothing quiet says luxury like having a Louis XV-inspired dragon-tap in the bathroom.
7. In fact, vintage-inspired and authentic vintage bathroom faucets are a great way to add a little unique custom flair to bathrooms that aren't ultra modern in their aesthetic. Something like the wood-accented, vintage-inspired Fountainhaus Faucet from Whitehaus adds rustic charm in spades for exactly the opposite reason of most of the other faucets. Instead of being eye-catching for being minimal and angular, this faucet and others like it are beautiful for their faithful reproduction of the more lavish, intricate, and detailed style of a bygone era. Especially in an older home, vintage bathroom faucets can go a long way to adding luxury and authenticity.
8. Sometimes it's the little things of the little things that can give the warm fuzzes when using it. The Brick Faucet Collection from Fima Carlo Frattini is fairly standard among high-end modern bathroom faucets, with a sleek geometric shape and dazzling chrome finish. But the sister Brick Chic collection comes with a small rectangle of tiny Swarovski crystals. It's the tiniest detail, but one that adds a sophisticated, luxury finish not only to the bathroom faucets, but also to the bathroom as a whole.
HomeThangs.com is not only a home improvement superstore, it also provides expert design tips and a comprehensive shopping guide, taking the ideas from professional interior designers, and offering tips to the consumers on how to pick the products to best suit their needs.