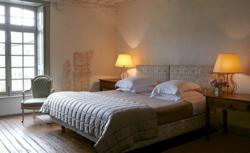 I want my guests to leave here feeling lighter, refreshed. And apparently they do; they tend to refer Manoir to others, and more than half of them return to visit.
Berlin, Germany (PRWEB) April 18, 2013
Welcome Beyond is honored to announce that beautiful Manoir de Coutainville is now part of its website promoting one-of-a-kind boutique hotels and vacation properties worldwide. Dominating the village of Coutainville, the luxury B&B is located on the west coast of the Normandy peninsula, close to world-famous Mont-Saint-Michel. The former summer vacation home of the owner's family is a place uniting lots of space and natural light with a sense of being close to nature. With ocean views and the fabulous surrounding landscapes, the Manor makes a truly refreshing place to get away from it all.
Big cobblestoned walls, once protecting the locals from intruding Vikings and the English, now shelter the Manor's serene, private atmosphere. No music or TVs distract from sitting by the cozy fireplace or enjoying the varied library. "I know how busy life can be, so being able to offer guests a calm, private house for their vacations is very rewarding to me. Guests feel at home here and forget about their worries." owner Sophie states.
Manoir de Coutainville consists of two different buildings: the Manor itself and Seneschal house, from where three rooms open to the spacious courtyard surrounded by private gardens. The mix of modern interiors and antique furniture works perfectly, creating an elegant, almost monastic, ambience. Bedroom Dame Jeanne appeals with a fairy tale-like shower in a tower room, while bedroom Seigneurie is only accessible via a granite spiral staircase.
Every night Sophie serves delicious dinners in a homely atmosphere using only fresh, locally grown vegetables. Plenty of private spaces in the house and the courtyard offer perfect little hideaways and play areas for children, while the barn is the ideal venue for weddings and events. In the village of Vieux-Coutainville guests may rent boats to go fishing or sailing, or explore the area in a little plane or on horseback.
For more information about Welcome Beyond visit: Welcome Beyond