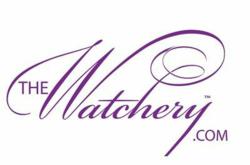 Each day, for a limited time only, The Watchery is thrilled to offer a featured deal of the day with prices at up to 88% off. We want our shoppers to visit us often and enjoy the customary top-quality shopping experience we strive to offer.
New York, New York (PRWEB) April 03, 2012
The Watchery, a high-end online retailer of luxury designer watches is offering several outstanding offers this week. Popular luxury brand watches Baume & Mericier is now on sale for up to 77% off regular prices. The Watchery is also holding a featured daily deal for one-week only on sought-after luxury watches brands like Tissot and Ebel amongst the long-time popular selection of U-Boat watches, watches by Movado, Lucien Piccard watches, Swiss Legend watches, Stuhrling Original watches, and Invicta. The Watchery always works overtime to offer shoppers only the best savings on popular luxury brand watches with discounts of up to 88% off best-selling luxury brand watches around the clock.
Baume & Mercier, one of the most prestigious luxury watchmakers in the world, represents the highest standards of workmanship and attention to detail. At never before seen prices that have been discounted by up to 77%, now is the time for shoppers to save on a new offering of over 20 Baume & Mercier watches on sale. A leading purveyor of dynamic designer watches, Baume & Mericer offer styles like men's chronograph, women's stainless steel, and classic bold leather band styles. And now customers can shop in real time with the website feature that let's shoppers know which luxury watches are running low on inventory or in some cases are the last designer watch of that style available. Of course, this feature is available for all luxury watch brands, including Swiss Legend, Movado, Invicta and more.
The Watchery is offering tremendous savings to customers everyday for one week only in featured daily deals. Each deal slashes prices by up to 88% off the recommended retail price of the extensive inventory of designer watches at The Watchery. What's more, each flash sale only lasts for a few hours at time so vigilant shoppers must act quickly. Favorite luxury brand watches are always featured in such sales. Very limited quantities of Invicta, Stuhrling, Swiss Legend, Lucien Piccard, Movado and U-Boat watches are offered regularly in these beat-the-clock deals.
Not only does The Watchery deliver dramatic discounts on top luxury brand watches, but the leading web retailer also delivers the top customer service and offers free shipping on all domestic orders. Furthermore, need-it-now customers can upgrade to 2-day shipping for only $5. In addition, with every purchase of designer watches, The Watchery is currently giving a 30-day money back guarantee. The trusted retailer offers new specials, holiday events, and exciting promotions every day. Check back frequently for more great deals on designer watches.
About The Watchery
The Watchery is a leading online shopping destination for consumers of luxury brand watches and designer watches at the best prices on the web. The Watchery prides itself on offering its customers the broadest range of name brand men's watches and ladies watches at the lowest prices anywhere. From Invicta to Movado to Swiss Legend, there are over 60 watch brands at up to 80% off retail prices. Constant and consistent positive reviews are available on the website.
They offer:

Free Shipping on all domestic orders
100% Satisfaction Guarantee
Low Price Guarantee
30-Day Money Back Guarantee
To get the latest buzz and inside scoop, visit and follow The Watchery on Facebook and Twitter.