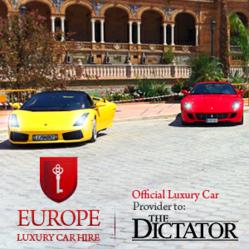 Satisfying the demands of 'The Dictator', with four of the most luxurious vehicles available, was challenging but not unusual. In fact, we expect our clients to have specific and unique rental requests
(PRWEB) July 26, 2012
Filming for the comedy movie 'The Dictator', which sees Sacha Baron Cohen playing General Aladeen, took place on the semi-desert island of Fuerteventura, Spain. Europe Luxury Car Hire provided a fleet of luxury cars that featured in the movie, including a red Ferrari 599 GTB Fiorano, a yellow Lamborghini Gallardo Spider, a moroccan blue Bentley Continental GTC and a black Rolls Royce Phantom.
Europe Luxury Car Hire is accustomed to meeting unusual rental requests due to the nature of the luxury car rental sector. Phil Tobin, director of Europe Luxury Car Hire stated that "satisfying the demands of 'The Dictator', with four of the most luxurious vehicles available, was challenging but not unusual. In fact, as a provider of luxury vehicles we expect our clients to have specific and unique rental requests and we will do all that we can to ensure their needs are met. Our highly personalised service ensures we can meet the specific requirements that come hand-in-hand with a high-end clientele".
Europe Luxury Car Hire serves some of the world's leading brands including Disney, Virgin, Barclays, Morgan Stanley, American Express, BBC's Top Gear and Facebook. Catering to clients' varied luxury travel requirements, Europe Luxury Car Hire also offer VIP and concierge services that are complimentary to the luxury car rental service, such as Chauffeur Services, Meet and Greet Airport Pickup, VIP protection and more.
"Europe Luxury Car Hire's flexibility and professionalism makes it a popular choice for corporate clients. We take pride in delivering an excellent service, and recognise the unique needs of our corporate clients, and provide bespoke luxury services for a range of business purposes" said Phil Tobin.
Reflecting the demand for Europe Luxury Car Hire's luxury rental services in Europe, the company has recently launched a French language website, joining the already established English and Russian sites. A mobile version of the website is also available, allowing for the same high quality browsing whilst on the move. Visitors to Europe Luxury Car Hire's website find that navigation through various rental locations, rental car categories and elite brands is clear and simple, and clients are able to request as many quotes as they wish. Completion of all reservations are made with a specialist client representative, providing a highly personalised service that allows the flexibility to facilitate unusual demands, a crucial factor in the luxury car rental market.
About Europe Luxury Car Hire
Europe Luxury Car Hire is one of Europe's largest high-end car rental company offering luxury cars for hire all across Europe in particular Spain, France, Germany and Italy. Luxury car categories include 4X4s, convertibles, supercars, sports cars, and featured brands such as BMW, Bentley, Porsche, Ferrari, Mercedes, Lamborghini, Land Rover and Rolls Royce. Europe Luxury Car Hire utilises its extensive network of partners and authorised agencies across Europe to source rare and exotic cars, as well as offering complementary VIP services such as airport pick up, chauffeur car hire, VIP protection, limousine rental and other luxury travel concierge services.