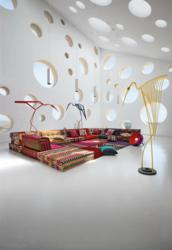 As one of our valued customers, Roche-Bobois invites you to the exclusive unveiling of its new autumn winter collection
San Francisco, CA (PRWEB) August 20, 2012
Roche-Bobois San Francisco, the sole distributor of the maker's European furniture and contemporary furniture collections in Northern California, is announcing its "8 Exceptional Days" event. Once a year, Roche-Bobois offers the event as an opportunity for clients to discover Roche-Bobois' new creations and experience remarkable values on its entire luxury furniture collections. From Sept. 13 to Sept. 23, clients will discover exclusive designs that illustrate Roche-Bobois' creativity and know-how--all at "8 Exceptional Days" prices.
"As one of our valued customers, Roche-Bobois invites you to the exclusive unveiling of its new autumn winter collection," Tyler Benz, director of sales and marketing at Roche-Bobois San Francisco, said. "Be the first to discover exciting new designs, including the already iconic Ava Chair! This is an opportunity to discover our newest and most exclusive designs, with exceptionally attractive prices."
During the exclusive, annual event, customers can take advantage of exceptional prices on their new collection, as well as join Roche-Bobois San Francisco for cocktails from 5 to 7 p.m. on Sept. 15.
"Each piece of custom furniture created by Roche-Bobois can be specifically tailored by the client; from the color and texture to the stitching," Benz said. "The result is furniture that will bring lasting joy to the generations of both today and tomorrow."
For more information about any of Roche-Bobois San Francisco's products, call 415-626-8613, view the modern furniture company on the Web at http://www.europeandesigns.net or visit 701 Eighth St. in San Francisco.
About Roche-Bobois San Francisco
Roche-Bobois San Francisco is the exclusive representative of the Roche-Bobois collection of contemporary European furniture in Northern California. It features exclusive collections of modern furniture, including fine furniture, luxury furniture, custom furniture, European furniture, and lighting and accessories, in addition to interior design services.