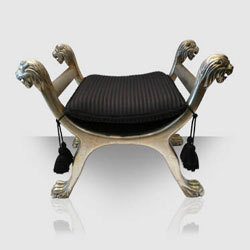 The most difficult challenge and our main concern about going online
Buenos Aires, Argentina (PRWEB) January 26, 2009
After a year and a half of intense dedication, Unique Classic Accents is pleased to announce the official launch of its online catalog of luxury home decor accents and antique reproductions.
Unique Classic Accents, which specializes in exclusive Empire and Neoclassical-style luxury decor accents, is an original and polished online environment where one will find a vast variety of one of a kind classic accents for the home. From a bronze discus thrower statuette to a hand-carved solid wood urn gilt in 22k gold leaf, UniqueClassicAccents.com boasts over 180 exclusive, hand-crafted creations. Each item is individually manufactured in noble materials and produced in limited quantities in Unique Classic Accents' very own workshop in Buenos Aires, Argentina.
Marble, bronze, crystal, precious stones and fine wood veneers are only an example of the many materials used in their luxury home decor accents and antique reproductions.
Unique Classic Accents' Neoclassical and Empire-style pieces, which have been inspired principally by the Greek, Roman and Egyptian civilizations, fit perfectly into virtually any modern decor setting, as well as in any sophisticated and classical decor.
After having run a successful decor accent shop in Buenos Aires for over 20 years and creating one of a kind classic accents and antique reproductions for discriminating clientele, the store owners have now made the hand-crafted classic home accessories available exclusively through the Unique Classic Accents catalog.
"The most difficult challenge and our main concern about going online," explains Unique Classic Accents' Master Designer, Joseph Golszmidt, "was to be able to transmit our 'spirit' through the web."
The e-commerce site features state-of-the-art technology, and has been designed with refined taste and enhanced with plenty of special features and high quality, quick-loading images. The Unique Classic Accents website accepts online payment with major credit cards, as to give customers a "unique" shopping experience from the comfort of their couch.
Unique Classic Accents ships door-to-door worldwide and offers Free Shipping to the U.S. and Canada.
###