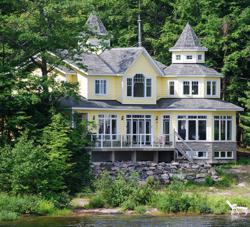 "A tenuous recovery hasn't stopped Minnesota's rich and famous from buying and renovating mansions in the Twin Cities most coveted neighborhoods." Butch Sprenger
Minnetonka, Minnesota (PRWEB) February 21, 2013
Luxury real estate is already well on the way to a great year in 2013. Previews specialists conducted the Luxury Side Of Real Estate summary of 2012 report for Coldwell Banker. It comes up with a strong Luxury Homeowner Profile for $10 million and above home buyer demographics and preferences.
"It's exciting to be a part of the demand to build luxury homes and sales in the Twin Cities market again. There's an interesting shift in the high end of the market. More high-end homes have been sold and buyers often have a home renovation plan ready to execute within six months of moving in. With fewer new lots available to build on, a tight housing inventory and escalating home values, Minnetonka and Wayzata home renovations are keeping us busy," commented Butch Sprenger, owner of Destiny Homes.
Coldwell Banker Luxury Homeowner Profile summarizes luxury homeowners as 68% buy due to their own hard-earned money, where as 11% build their homes from "old" or " inherited money". As we embark on 2013, 44% of the ultra-affluent real estate buyers are entrepreneurs. The same study conducted in 2002 found that entrepreneurs who own their own businesses were then a close second to business executives as owners of luxury homes.
Two of the upper-end hosing market buying influences summarized in the Luxury Market Report came out extremely clear:
1) The unprecedented rise of affluent women.
2) The growth of ultra-luxury consumers who purchase properties priced over $10 million
Housing specialists in charge of the survey discovered that ultra-affluent consumers continue to impact the real estate market in creative and powerful ways. The 2012 Exclusive Luxury Market Report Survey findings underscores, again, the importance of location as a primary factor. Even more precise than that, they are seeking a location with a view. Premium properties near the water generate the most demand. If they are not large enough, they simply hire a architecture and renovate.
"It's also clear that they know the role of immense success; they posses real estate savvy and the patience required to find the best properties available on the market. That is why Minnesota sees such stiff competition to buy Wayzata and Minnetonka homes," says Sprenger. If the location is right with a lakefront view, buyers quickly snap up homes and many immediately embark on a major home renovation to gain the size and amenities that meet their wishes.
Destiny Homes Interprets The Demographics On Who Is Buying Luxury Homes:

The majority of the luxury homes over $10 million are sold privately or off-market given the preferences of the purchasers wishes for a confidential sale.
Nearly one-third, or 31.5%, of buyers paid cash to purchase their one million dollar and over luxury home.
Two-thirds of these homeowners are from the " baby boom" generation (between the ages of 45 and 54)
28% are moving into luxury single-family homes as they seek to retire, meaning home buyers between 56 years and older.
A small percentage, only 4% of luxury homeowners are under 34 years of age
Eighty-eight percent of luxury home purchasers are married, usually having two incomes
Of the married luxury home buyers, 54% have children
About 1 out of every 10 distinctive homeowners are single - 6% are men; 5% are women
Seven out of 10 luxury homebuyers (72%) come from the same state where they buy their new home
55% are from the same city
Twenty-four percent come from out of state
28% come from outside of the U.S. Of that percentage, 39% are Asian international buyers
Previews Specialist Malin Giddings further noted an emerging trend among this profile of luxury home buyers, and that was a very strong interest in mid-century architecture. "Specifically, this group is not interested in traditional, ornate or Mediterranean style homes; rather, they want a clean, minimal palette with high ceilings, large glass windows for the views and big, open rooms," she said.
"Stunning views and easy access to the lakes and recreational woodlands keep stately lakefront mansions high on discriminating home buyers lists. Sellers with premium homes in the right location aren't worrying about attracting buyers," sums up Sprenger. The well-maintained Wayzata and Minnetonka neighborhoods are some of the most prestigious addresses in the Twin Cities.
Homeowners in the Wayzata, Minnetonka, Chanhassen, Edina and surrounding residential real estate communities seeking a Minneapolis home builder to renovate luxury homes may reach either Butch or Liz by calling 952-934-5706.