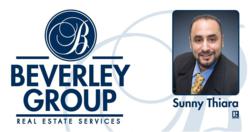 He came to me with three requests: to sell his parents' house, find investment property for him and help him with a great deal on his mortgage
San Francisco, CA (PRWEB) June 23, 2012
Sunny Thiara of The Beverley Group, a company that offers real estate services throughout San Leandro, Danville, Dublin and Pleasanton, seeks to find anyone's dream home and sell houses quickly. Most importantly, he does it all and works hard for all of his clients. This is exemplified in Thiara's relationship with Pratt, a Cisco accountant.
"He came to me with three requests: to sell his parents' house, find investment property for him and help him with a great deal on his mortgage," Thiara said. "I accomplished all three within two weeks."
The Beverley Group offers a boutique environment for those looking to purchase, sell or handle luxury real estate, bulk sales, short sales and listings. It also handles all aspects of real estate, but primarily focuses on providing clients with representation and consultation as they conduct their real estate transactions.
The real estate company's top performing agents make every effort to understand the client's real estate needs, whether it's to handle the short sale process on different properties, locate properties that have strong returns or offer real estate advice on the value of specific properties. As a company that provides boutique-type treatment, its experience and advice is at anyone's disposal.
For more information about The Beverley Group's Bay Area luxury homes, real estate listings or services, call 925-478-3456 or view the real estate company on the Web at http://www.beverleygrp.com. The Beverley Group is located at 1201 Fourth St. in San Francisco.
About The Beverley Group Real Estate Services
The Beverley Group provides boutique real estate representation to businesses and individuals in the Bay Area. It offers client consultation on a variety of real estate matters, from short sales, bulk home sales, luxury real estate properties and more. The Beverley Group serves the areas of San Leandro, Danville, Dublin, Pleasanton, Alamo, Tiburon and Sausalito.