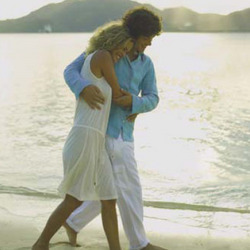 Old Beaconsfield, UK (PRWEB) January 12, 2009
The Turquoise Holiday Company was one of the first to launch a honeymoon gift list concept in the UK. Their offering is still the best and they are constantly trying to improve this service - ideas and feedback are positively welcomed by Turquoise, after all - it is the honeymooning couple that the luxury holiday company is trying to please. The actual concept is not new; the honeymoon list is widely accepted and used in Italy - this is where the Turquoise Holiday Company Marketing Director first saw the idea and decided to bring it the the UK.
The idea is simple; much of the UK are getting married later in life - at a time when, generally speaking, people already possess many of the useful household items such as towels, china and glasses so Turquoise felt that friends and relatives would love the idea of giving gifts towards a honeymoon. Who wants to buy a kettle when instead, when gift of a romantic cruise on an ancient dhow to watch the sunset over a desert island? That's a memory which will last forever.
The Turquoise Luxury Holiday Company has some unique key benefits to its online luxury honeymoon gift list:

Cash contributors or a combination of cash & a selection of exciting experiences
Contributions can be made online or by telephone, by credit card or debit card or by cheque
Secure, reliable and easy to use payment system. All payments are handled by Turquoise and secured by SSL Certificate Authority. They possess an ATOL license which protects all of their clients booked on air ticket based tailor-made holidays.
Free of charge service - no credit card fees
Dedicated Honeymoon gift List Co-ordinator
Dedicated and easy to use webpage for Guests and the Bride & Groom
Ability to personalise your gift list by adding message and images
Flexibility to amend gifts online
Download honeymoon photos and send e-postcards - a lovely 'thank you' card idea
Option to print a record of all the fun messages and greetings
Receive cash refunds at any time
An average wedding/honeymoon gift contribution is usually between £50 to £100, but contributions can be made more affordable for the friends and relatives of the Bride & Groom by breaking the total price of an experience into smaller more affordable portions.
Furthermore, the Bride & Groom can personalise their gift list further by posting personal messages to friends and guests and add photographs.
The Turquoise Holiday Company has hundreds of happy clients every year and thousands of friends and relatives who all use the honeymoon gift list service. It doesn't matter if people are wanting a luxury Bali Honeymoon or a getaway to Australia, Maldives or beyond - to activate a honeymoon gift list with Turquoise visit the Official Turquoise Holiday Company website today http://www.turquoiseholidays.co.uk for more information and contact details.
###