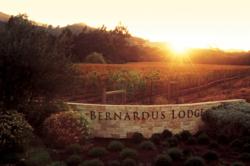 We invite you to witness our harvest firsthand and celebrate the culmination of a solid year's worth of work, care and expertise
Carmel, CA (PRWEB) September 07, 2012
Bernardus Lodge, Carmel's premier luxury and boutique hotel and winery, will be holding its first annual Bernardus Grape Crush & Oyster Shuck event on Saturday, Oct. 20 from 1 to 3 p.m. Cost of the event is $95 per person (tax and gratuity included in the price) and guests can live out their 'exotic labor' dreams by crushing grapes with their bare feet and shucking oysters in a beautiful resort hotel setting.
Bernardus Lodge and Winery dreamt up this unique and very exciting event to mark the annual grape harvest that takes part in the heart of the Carmel Valley wine country every October.
Everyone knows that one thing that always accompanies wine best is a succulent oyster, so Bernardus Lodge has invited Morro Bay Oyster Company to aid in kicking off the afternoon with a helpful oyster shucking and Bloody Mary bar. The afternoon will pay homage to the season with grape stomping, live music and a family style vineyard lunch.
"We invite you to witness our harvest firsthand and celebrate the culmination of a solid year's worth of work, care and expertise," said Wine Maker Dean DeKorth.
For reservations and hotel packages, please call 831-658-3550. Do not RSVP for this event via Facebook as seating is limited.
For more information about this or other events, please call 831-658-3400, go to http://www.bernardus.com or visit the lodge at 415 W Carmel Valley Rd in Carmel.
About Bernardus Lodge
Bernardus Lodge is a 57-room boutique luxury hotel set amongst a terraced hillside in one of America's most scenic destinations: Carmel Valley, the sunny side of Carmel. Inspired by Bernardus Pon, the creator of the acclaimed Bernardus Vineyards and Winery, the resort hotel combines the simple elegance of fine country living with high-quality service and luxury amenities. The Lodge is 120 miles south of San Francisco and 330 miles north of Los Angeles. It is a 20-minute drive from the Monterey Peninsula and its wealth of attractions. Bernardus Lodge is a 2012 recipient of the Forbes Four-Star rating for the Resort, Spa and Marinus Restaurant. Other awards include Travel & Leisure 2012, Top 100 World's "Best Hotels" and Top 100 Continental U.S. Hotels. Zagat Survey 2011 awarded Marinus restaurant "Top restaurant South of San Francisco," and it is also winner of Wine Spectator's "Grand Award" since 2001.