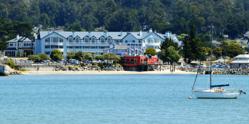 Everyone's first visit to Half Moon Bay feels as close to a 'eureka!' discovery moment as there is
Half Moon Bay, CA (PRWEB) June 05, 2012
Coastal Living Magazine recently named Half Moon Bay, Calif., as one of the happiest coastal towns in the nation and the Oceano Hotel and Spa as the place to stay when visiting. A luxury hotel and day spa, Oceano Hotel and Spa offers views from the steps of the picturesque Pillar Point Harbor in Half Moon Bay.
"Everyone's first visit to Half Moon Bay feels as close to a 'eureka!' discovery moment as there is," according to the article in Coastal Living Magazine. "Your car navigates that vertiginous road over the coastal hills from sprawling Silicon Valley, and then you descend upon this little gem nestled against the Pacific."
The article listed the top 15 Happiest Seaside Towns, with Half Moon Bay taking No. 7. Coastal Living Magazine highlighted that the Half Moon Bay hotel offers suites with fireplaces, organic bamboo linens and rates starting at $199.
"We've known all along that Half Moon Bay is a wonderful place," Tony Canadas of Oceano Hotel and Spa said. "Now we are honored that Coastal Magazine has named as us the hotel of choice for Half Moon Bay."
Oceano Hotel and Spa offers vacation packages, the perfect venue for Half Moon Bay weddings, a day spa for relaxing massages and spectacular amenities.
"Speaking as a third-generation local, everyone who lives in the area already knows it's the perfect California Pacific coast destination town. Now the secret is out and the rest of the country is finding out what people in the area have known for a long time," Canadas said.
Situated just west of the famed California Highway 1 and only 25 minutes from San Francisco International Airport, the locations makes Oceano Hotel and Spa a premier ocean-side destination for visitors to the San Francisco Bay Area.
"With luxury accommodations, breathtaking coastal views and exquisite culinary dining options, our boutique hotel is the ideal location in Northern California for a memorable getaway retreat, romantic wedding venue or a weekend of golf," Canadas added.
For more information about Oceano Hotel and Spa, call 650-726-5400, view the luxury hotel on the Web at http://www.oceanohalfmoonbay.com/ or visit 280 Capistrano Road in Half Moon Bay.
About Oceano Hotel and Spa
With sweeping views of Pillar Point Harbor and the amazing California coastline, Oceano Hotel and Spa in Half Moon Bay offers guests a stunning visual experience that is priceless. From the natural surroundings that envelop this intimate boutique hotel to the luxurious interiors, this all-suite hotel is a charming destination for a private getaway or a romantic wedding venue.
Located in the coastal city of Half Moon Bay, Oceano Hotel and Spa is the preeminent ocean-side destination for visitors in the San Francisco Bay Area and beyond. The hotel is adjacent to the shops at Harbor Village, where guests can enjoy a unique shopping and dining experience. Oceano Hotel and Spa is also near the Half Moon Bay Golf Links, which features 36 holes of championship golf.