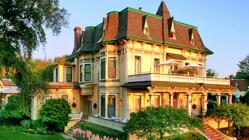 Many of our guests over the years have been cycling enthusiasts not wanting to travel with their bicycles
Healdsburg, CA (PRWEB) July 11, 2011
Madrona Manor, the romantic historic inn nestled in Sonoma County's Dry Creek Valley, is teaming up with Wine Country Bikes in Healdsburg to offer a special wine country getaway for couples: two nights in a deluxe room; a one-day cycling trip through the Dry Creek Valley for two, complete with gourmet picnic lunch and experienced guide; and two one-hour massages.
"Many of our guests over the years have been cycling enthusiasts not wanting to travel with their bicycles," says Kevin West, manager of Madrona Manor, one of the most elegant Sonoma or Napa luxury hotels. "With this package they have a great bike and guide provided for them and an amazing setting to relax at the end of the day."
Upon arrival at Madrona Manor, guests will leave behind their worries and stress, and just enjoy the comfort of one of Madrona Manor's 18 luxuriously appointed guestrooms. They may choose to spend time by the pool, or stroll through the 8-acre grounds, or simply lounge around the room, and enjoy a candlelit dinner at Madrona Manor's Michelin Star-rated restaurant. They can sleep soundly on a pillow-top mattress with feather soft linens, and awaken to an extensive breakfast buffet.
Dry Creek Valley is the perfect setting for a bike ride, with its rolling hills, lush wineries and mild weather. Tour guides at Wine Country Bikes are all locals who know the back roads and best wineries in the area. Guests will ride beautifully tuned Trek hybrid-style bikes fitted to their size, experience level and preference.
The all-day tour starts at their Bicycle Touring Center in Healdsburg, and winds through the valley with occasional stops at spectacular vistas and charming wineries. Guides may take wine lovers on a special insider's walk in the vineyards, explaining the history of winemaking in Sonoma and getting up close to the vines, some of which are over 90 years old. A fresh, locally grown picnic lunch and cold drinks are included. After lunch, the tour continues through another winery or two before returning around 3:30. The total distance is less than 25 miles, and is perfect for avid cyclists or beginners.
After all that exercise, guests will be ready for a massage when they get back to Madrona Manor. In-room massages are offered by experienced massage therapists who specialize in many styles, including sports, Swedish, therapeutic and more.
After an afternoon of deep relaxation (and maybe a little nap), guests can enjoy another sumptuous meal at the restaurant, one of the most acclaimed Sonoma or Napa fine dining experiences, before drifting off to sleep.
For more information about Madrona Manor's bike tour package, call them at (866) 319-8212 or visit them on the web at http://www.madronamanor.com.
About Madrona Manor
Nestled in the hills above the Dry Creek Valley of Sonoma County, Madrona Manor is an exceptionally lovely Victorian estate surrounded by eight acres of wooded and landscaped grounds. The Mansion, built in 1881, has been a destination for discerning guests seeking a stay in the gracious wine country of northern California since 1981. Whether visitors come to get away from it all, or to reconnect with friends and loved ones, Madrona Manor is one of the finest locations for an out-of-town weekend, party, executive retreat, or wedding in Napa or Sonoma Counties.
Visitors are invited to enjoy a romantic meal in the acclaimed restaurant, engage in quiet conversation with drinks on the veranda, or relax by a cozy fire in the winter or the pool in the summer. At the end of the day, a peaceful night's stay awaits guests staying in any of the elegant rooms.
About Wine Country Bikes
Wine Country Bikes is truly a regional touring company; their entire operation is based out of their Touring Center located in the town of Healdsburg in northern Sonoma County and they offer tours only in Sonoma and Napa Counties. They believe this is one of the reasons touring with Wine Country Bikes is a special experience; they live and ride locally and have the extensive and current knowledge of the roads, routes, wineries and attractions in the area, that only locals can possess.
# # #