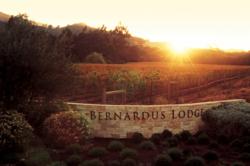 Our goal is to provide you with memorable experiences worth repeating and a truly comfortable stay. For many that means time spent with their pet and we welcome pet lovers and their friendly dogs to our resort
Carmel, CA (PRWEB) September 16, 2011
Bernardus Lodge, a luxury hotel in Monterey, is pleased to announce it now has dog-friendly accommodations available for guests wishing to travel with their friendly dogs. Now, dogs can relish in many of the same lavish luxuries enjoyed by their owners at the Bernardus Lodge.
"Relax and enjoy all that our resort and the Carmel Valley Wine country have to offer," said Sue Dreyer of Bernardus Lodge. "Our goal is to provide you with memorable experiences worth repeating and a truly comfortable stay. For many that means time spent with their pet and we welcome pet lovers and their friendly dogs to our resort."
Dogs can now stay overnight at the Bernardus Lodge with the payment of a non-refundable fee of $100 added on to the cost of the stay. Including in this fee, dogs will receive several amenities such as a limited edition of the "Bernardus Barker" newsletter, a plush dog bed to rest his weary paws, hand painted food and water bowls for their all-important daily feeding, all-natural doggie treats to whet any canine appetite, and a disposable doggie clean-up bag kit.
Monterey's resort hotel, Bernadus Lodge, asks guests to use their best judgment when bringing canines on the property and that they be friendly and approachable. They allow one dog per room and each dog must be less than 75 pounds. Dogs must be leashed at all times while on property, including the lobby. Owners must remove their dog from the room when housekeeping visits the room and guests should always clean up after their pets and keep them attended to at all times. There are several places where dogs are not allowed, including the fitness room, pool area, spa and restaurants, including Wickets Terrace.
For dog friendly restaurant recommendations, owners can ask the concierge for assistance.
For information and/or reservations, please call the Bernardus Lodge at (888) 648-9463 or visit them on the web at http://www.bernardus.com. They are located at 415 Carmel Valley Road in Carmel.
About Bernardus Lodge
Inspired by BernardusPon, creator of the Bernardus Winery and Vineyard, the Lodge is a boutique hotel and a resort hotel in Monterey that combines the simple elegance of fine country living with the high quality of service and luxury amenities found in only the best European hotels. Here, discriminating travelers can experience the finest accommodations, cuisine, viticulture, spa services and recreational venues.
###