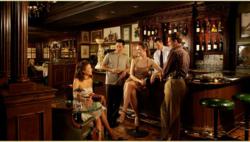 A one-of-a-kind experience
San Francisco, CA (PRWEB) September 03, 2011
Families and friends will have a unique opportunity this fall to enjoy private wild game dinners announces San Francisco luxury hotel, The Huntington Hotel, in the Big 4 Restaurant.
"A one-of-a-kind experience," said Gail Isono of The Huntington Hotel.
This unique and exciting dining experience will be available in the classic Central Pacific Room of the Big 4 Restaurant at The Huntington Hotel.
Customers are invited to enjoy this award-winning exclusive dining experience created by Executive Chef Gloria Ciccarone-Nehls.
The private dinner has a three course menu which includes exotic selections of Brazilian Piranha, Himalayan Yak, Rocky Mountain Elk, and Wild Boar. The private wild games dinner is available for 14 to 20 people at a cost of $175 per person. Two weeks advanced notice is required for the dinner.
For more information about the Huntington Hotel's Private Wild Game Dinners, call (415) 771-1140 or visit http://www.huntingtonhotel.com. The Huntington Hotel's Big 4 Restaurant is open for breakfast Monday through Friday from 7:00 to 10:00 a.m.; and Saturday and Sunday from 7:00 to 11:00 a.m.; and open for dinner nightly from 5:30 to 10:00 p.m. The bar is open from 4:00 p.m. to midnight nightly. Piano entertainment is available daily from 5:00 p.m. to 11:30 p.m.
About The Huntington Hotel
Family owned and operated for generations, The Huntington Hotel is one of the best hotels that artfully bridges a glorious past with a stylish, chic present. Perched atop one of the city's highest hills since 1924, this elegant San Francisco luxury hotel upholds a long tradition of gracious hospitality. It's a warm, welcoming tribute to an era when travel was truly glamorous, blended with the perfect measure of modern luxury. Upon the arrival of the customer, the attentive bellman will make the patron feel at home, like an old friend. With superb skyline views, a tranquil luxury and day spa, and an award-winning seafood and steak restaurant, The Huntington Hotel is a truly prestigious location for savvy corporate and leisure travelers. Reserve one of their newly renovated downtown San Francisco hotel rooms for a delightful sense of intimacy usually found in a private downtown residence.
###