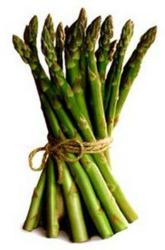 While we get produce from our garden year round, spring is when it really starts to become bountiful
Healdsburg, CA (PRWEB) May 27, 2011
This is the dawning of the age of asparagus; well, it's asparagus season anyway, and Chef Jesse Mallgren of Madrona Manor has just released the recipe for his favorite enticing spring dish: Asparagus Vichyssoise. This thick, creamy soup, served cold, is a modern take on a classic dish. Madrona Manor, a popular Sonoma / Napa wedding reception venue in Dry Creek Valley, is now serving delicious asparagus dishes like this one using freshly harvested asparagus sprouting from their on-site estate garden.
Asparagus Vichyssoise Recipe
Ingredients:

1 cup shallots
¾ cup butter
4 tsp salt
5 ¼ cups asparagus
1 ¾ cups ½ & ½
1 cup cream
1 ¼ cups asparagus juice, reduced by half (use a juicer on tough parts of asparagus and enough whole asparagus to get enough juice. The amount of asparagus needed varies depending on the moisture content; Chef Mallgren usually uses about 1 ½ lbs.)
Directions:
1. Quickly blanch asparagus in boiling salted water for 1 minute
2. Immediately refresh in an ice water bath
3. Remove asparagus from ice bath and set aside
4. Sweat the shallots in butter until tender
5. Add salt and ½ & ½, bring to a simmer
6. Add cooked asparagus and puree in a blender
7. Add cream and reduced asparagus juice, adding additional salt to taste
"While we get produce from our garden year round, spring is when it really starts to become bountiful," said Chef Mallgren.
Asparagus is full of vitamin B6, potassium, vitamin A, and folate. It has anti-aging, antioxidant and aphrodisiac qualities—so it's no wonder that asparagus has been a favorite indulgence in the upper echelons of civilizations all over the world, dating back to the ancient Romans.
For more information about the delectable preparation of Asparagus Vichyssoise or about the Madrona Manor property and restaurant, call them at (866) 319-8212 or visit them on the web at http://www.madronamanor.com.
About Madrona Manor
Nestled in the hills above the Dry Creek Valley of Sonoma County, Madrona Manor is an exceptionally lovely Victorian estate surrounded by eight acres of wooded and landscaped grounds. The Mansion, built in 1881, has been a luxury hotel destination for discerning guests seeking a stay in the gracious wine country of northern California since 1981. Whether visitors come to get away from it all, or to reconnect with friends and loved ones, Madrona Manor is one of the finest locations for an out-of-town weekend, party, executive retreat, or wedding in Napa or Sonoma Counties.
Visitors are invited to enjoy a romantic meal in the acclaimed restaurant, engage in quiet conversation with drinks on the veranda, or relax by a cozy fire in the winter or the pool in the summer. At the end of the day, a peaceful night's stay awaits guests staying in any of the elegant rooms.
###