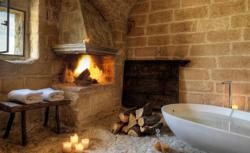 The philosophy was clear — to restore the caves without destroying their history. We wanted to keep the original function, the integrity. — Danilo, marketing manager at Sextantio Grotte della Civita
Berlin, Germany (PRWEB) December 31, 2012
Welcome Beyond is proud to announce the addition of romantic cave-lodges in southern Italy and a stylish luxury hotel with a rooftop spa in Barcelona to its collection of unique vacation rentals & boutique hotels worldwide.
Sextantio Grotte della Civita in Basilicata, Italy
Sextantio Grotte della Civita is a unique lodging experience: The hotel, an albergo diffuso, consists of various ancient caves in the middle of Matera, a UNESCO world-heritage listed village in Basilicata. Matera is the last example of people living in caves exactly as man lived 2,000 or 3,000 years ago. The caves were abandoned after the 1959's prime minister was too ashamed to see people still living in caves. Now they form big rooms where guests feel as if they are living in prehistoric times, yet with all the modern luxuries including heat and very comfortable beds. In the grotto there is an old church where breakfast is served. Marketing Manager Danilo declares: "The philosophy was clear — to restore the caves without destroying their history. We wanted to keep the original function, the integrity."
El Palauet in Barcelona, Spain
Find beautiful El Palauet located right in the heart of Barcelona, surrounded by typical elements of the city. The area is pleasant and quiet yet within walking distance to Plaça de Catalunya and many bars, shops and restaurants. The six suites, each hosting four people, are minimalistic yet spacious and with interior designs matching the originality of the building. Even if El Palauet does not look like a boutique hotel from the outside, it offers every hotel service one can think of, including access to a private rooftop spa with a sauna, Jacuzzi and a massage room.
About Welcome Beyond
Welcome Beyond is a carefully curated collection of the most beautiful small boutique hotels and vacation rentals in Italy, Spain, France and further afield in Europe, Asia and the Americas.
The collection focuses on quality, authenticity and character and targets style-conscious travelers who regard shelter as a meaningful part of their vacation experience. Welcome Beyond takes away the hassle of browsing through hundreds of sites to find a truly memorable vacation and has been recommended by The New York Times, The Guardian, Elle Magazine, Vogue and many others.
For more information about Welcome Beyond and other unique vacation properties visit: Welcome Beyond