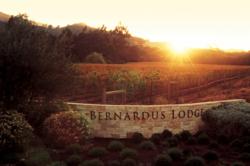 Carmel, CA (PRWEB) February 07, 2012
The Bernardus Lodge, a Monterey luxury hotel, fine winery and hotel resort found cozily situated in the charming Carmel Valley is offering guests a special deal during the AT&T National ProAm.
The AT&T Pebble Beach National Pro-Am 72-hole PGA Tour Golf Championship takes place from Feb. 6 to Feb 12, 2012. Professionals join with celebrities, musicians and heads of industry to compete for a $6.1 million dollar purse rotating from MPCC Shore Course, Spyglass Hill and Pebble Beach Golf Links.
Reservations should be booked as soon as possible by calling 888-648-9463 or visiting: https://www.yourreservation.net/tb3/index.cfm?bf=HLLW2702&rateAccessCode=*s3href%3D&plprun=1&_=1328305751225 as this special offer is not available if booked within four days of arrival.
Through March 31, Bernardus Lodge is offering a Body + Soul one-night package. Guests are treated to a night of luxury with complimentary wine grottos, tasting passes for 2 at the Bernardus Winery tasting room, dinner for two at Wickets and choice of 2 – pampering 50-minute spa treatments.
Guests of Monterey's boutique hotel, Bernardus Lodge may enjoy the resort's world-class spa, tennis, bocce, swimming, croquet, horseback riding, hiking, and golf if they're feeling active; or a relaxing time wine tasting, walking, or taking a scenic drive to Carmel-by-the-Sea, only a few miles from Bernardus.
For more information about the package or Bernardus Lodge, call 888-648-9463, view the hotel on the web at http://www.bernardus.com or visit 415 West Carmel Valley Road in Carmel Valley.
About Bernardus Lodge
Bernardus Lodge, a Monterey resort hotel offers 57 luxurious guest rooms in nine adobe-village style buildings along a terraced hillside in Carmel Valley, the sunny side of Carmel. Inspired by Bernardus Pon, creator of the Bernardus Winery and Vineyard, the lodge combines exceptional Epicurean experiences, presided over with gracious hospitality by celebrated chef Cal Stamenov. The Lodge is 120 miles south of San Francisco, 330 miles north of Los Angeles and a 20-minute drive from the Monterey Peninsula.
###