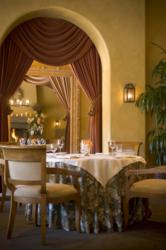 Guests only need to look out the soaring windows to capture the essence of this new space
Carmel, CA (PRWEB) May 16, 2012
The comfort zone long known as Carmel Valley - spiked with equestrian ranches, sweeping vineyards and raw, rolling California acreage - has progress on its palate. Set to debut on May 26, The Bernardus Lodge is transforming the Old World, award-winning charm of Marinus restaurant--long a destination for avid epicureans--into a new realm of possibilities. At the helm, chef and culinary director Cal Stamenov will raise the stakes on the extensive interior renovation with a sophisticated new menu that embraces today's foraging zeitgeist with an eye to seasonal rock stars and sustainability. Known for its seamless art of service, Marinus' new direction reflects the shift in today's palates from tradition-bound temples of gastronomy toward a more informal setting focused on the purity of ingredients, impeccably prepared.
Inspired by Carmel Valley's wine country setting and a cache of European artisans, New York's Charlie Akwa and design team at The Silver Peacock will put their vision into play with a residential-style interior awash with elegance and simplicity. The new style fuses country wine estate with Carmel sensibilities; out go the stuffy linens and sommelier service–in will be a fresh earth-toned palette that showcases shades of green and touches of purple--sage and lavender, offset with olive and burgundy overtones.
"It's an outside in approach," President Michael Oprish said. "Guests only need to look out the soaring windows to capture the essence of this new space."
Local tradespeople will be tapped to integrate the new design along with a fresh new feel for the coveted four-seat Chef's Table and 12-seat Magnum Room. A stunning line up of natural fabrics from Italy and Austria will be showcased throughout the new interior for upholstery, table top, accent pillows and window dressing. New wall sconces and three hand-forged iron chandeliers crafted in Normandy, France, will serve as the room's focal point.
Along with the new design comes a shift to a more informal dining experience to include reconfigured seating expanded to 60; a relaxed wine service showcasing Marinus' 35,000-bottle cellar (a Wine Spectator Grand Award recipient since 2001); and a newly curated dessert, cordial and rare, small-farm crafted American cheese menu. Pastry chef Ben Spungin is also working up a stellar new dessert menu certain to raise some eyebrows. Also new is an expanded six-acre organic garden flush with 250 varieties of fruit-bearing trees, bushes and vines, exotic herbs, and vegetables for Stamenov to pull from.
Blending classical techniques with a commitment to sustainability and a cache from local foragers, ranchers and fisherman–the unsung heroes of the food chain–Stamenov's menu will deliver the top-shelf cuisine guests have long pilgrimaged for displayed in three themes: a vegetable-forward menu (including gluten free), a seasonal menu that spotlights products of the hour and a traditional menu with a riff on signature dishes. A five-course tasting menu ($125) will be available upon request. Mentored by the world's top toques–Alain Ducasse, Pierre Gagnaire, Masa Koboiashi, Jean-Louis Palladin and Michel Richard–Stamenov's kitchen of 35 is committed to delivering on expectation.
The restaurant is scheduled to be closed in May 2012 to give way to the project.
For more information about Marinus restaurant or Bernardus Lodge, call 831-658-3400, view the resort hotel on the Web at http://www.bernardus.com or visit 415 West Carmel Valley Road in Carmel.
About The Bernardus Lodge
Set on 26 pristine Carmel Valley acres awash with vineyards and lavender, Bernardus Lodge boasts 57 luxurious guestrooms, award-winning dining, the signature Spa at Bernardus Lodge, two swimming pools, an alfresco bocce court and 4,000 square-feet of meeting space. Created by Bernardus Pon, owner of Bernardus Winery and Vineyard, the Carmel luxury hotel offers a bespoke escape steeped in European graciousness. A member of Leading Hotels of the World and partner with American Express Fine Hotels and Resorts Program, Bernardus Lodge received the Conde Nast Traveler Johansens 2012 Awards for Excellent for "Most Excellent Lodge," the 2012 AAA Four Diamond Hotel rating and the 2012 Forbes Four-Star award for the Carmel boutique hotel, The Spa at Bernardus Lodge and Marinus Restaurant. The Lodge is perennially recognized by discerning readers of Conde Nast Traveler's "Top Hotels" and Travel and Leisure's "World Best Hotels," as well as being a Wine Spectator Grand Award recipient (2001-2012) and voted number one in Andrew Harper's 2012 Reader Survey of "Top Food & Wine Resorts" worldwide.
Bernardus Lodge, a resort hotel is located on the Monterey Peninsula, 120 miles south of San Francisco and 330 miles north of Los Angeles. The Lodge is a 20-minute drive from the Pacific Ocean, Pebble Beach, Carmel-by-the-Sea and Monterey, and a 45-minute drive from scenic Big Sur.