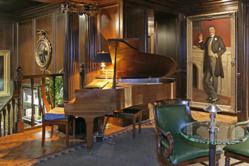 This signifies the turn of a new era in our efforts to establish a presence in the global market
San Francisco, CA (PRWEB) January 24, 2012
Grace International, Singapore's fast-rising international luxury hospitality-management group, is proud to announce its procurement of the celebrated San Francisco luxury hotel, The Huntington Hotel of Nob Hill late in 2011.
"This signifies the turn of a new era in our efforts to establish a presence in the global market—the desire to redefine guests' experiences with our passion, creativity and style, and recognize each guest as an individual," Executive Director Geeson P. Lawadinata said. "We are extremely delighted with this acquisition and excited about contributing to an intriguing mix of different cultures and vibes."
The Huntington Hotel is a perfect complement to Grace International. It will be an ideal introduction of the group's exceptional and opulent service—grounded on discernment and passion—to California and the rest of the U.S.
The Huntington Hotel started as the exclusive Huntington Apartments in 1922 on California and Taylor streets, and was immediately proclaimed as "the last word in luxury" by San Francisco's Illustrated Daily Herald. Through the decades, the luxury hotel has remained one of the best hotels in San Francisco and has persistently kept to its tradition of tendering quiet, understated lavishness.
Discriminating clients looking to unwind in a luxury spa will find high-class comfort at the hotel's day spa. Epicures, as well, will satisfy their fine tastes at the hotel's Big 4 Restaurant.
For more information on the Huntington Hotel and any of its services, call 415-474-5400, view the hotel on the web at http://www.huntingtonhotel.com or visit 1075 California St., San Francisco, CA 94108.
About Grace International
Grace International is headquartered in Singapore and handles the acquisition, conceptualization and development of boutique hotels. A team of highly dedicated professionals with foresight, creativity and daring leads the group. To learn more about Grace International, view its website at http://www.grace-int.com.
# # #