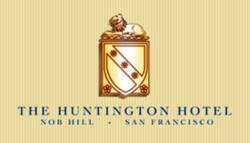 The Huntington Hotel and the hotel's Big 4 Restaurant lend themselves to that classic Mad Men era in many ways.
San Francisco, CA (PRWEB) May 24, 2012
Patrons of San Francisco luxury hotel, The Huntington Hotel can now channel their inner Don, Betty, Joan or Roger with the luxury hotel's exclusive 'Mad Men on the Hill' package, available now through July 31, 2012. The Huntington Hotel is truly one of the best hotels in San Francisco and offers amenities such as a luxury spa and a fabulous restaurant, serving delicious seafood and steak, with an ambiance that perfectly fits the tone of Mad Men.
To celebrate the current season of AMC Network's hit show Mad Men, the hotel is offering guests a time warp to the iconic era of the show—the 1960's—with a one-night stay in a lush and traditionally decorated guest room and dinner in the heady atmosphere of the hotel's Big 4 Restaurant - the perfect spot for a delicious dinner, classic cocktail and perhaps a clandestine tête-à-tête. The experience can be continued at home with a special take-home gift to complete the Mad Men feel. The rate is $675 per night for a Star Suite.
The 'Mad Men on the Hill' package includes a one-night stay in a traditionally decorated Star Suite; dinner for two in the Big 4 Restaurant - up to $150; take home gift of The Unofficial Mad Men Cookbook: Inside the Kitchens, Bars & Restaurants of Mad Men, by Peter Zheutlin and Judy Gelman; tea or coffee service upon arrival; chauffeured sedan service from the hotel to Union Square and the Financial District - available from 8 a.m. to 4 p.m. Monday through Friday; and unlimited access to the Nob Hill Spa facilities - including the indoor relaxation pool and whirlpool, outdoor patio, sauna and steam rooms, Zen Room, gymnasium and fireside lounge area.
"The Huntington Hotel and the hotel's Big 4 Restaurant lend themselves to that classic Mad Men era in many ways. We're excited to welcome a guest who books this package into a special experience full of Mad Men-esque touches they're sure to appreciate as fans of the show," Kellie Samson, Public Relations Manager, said.
For more information about any of Huntington Hotel's services, call 415-474-5400, view the luxury hotel on the web at http://www.huntingtonhotel.com or visit 1075 California St. in San Francisco.
About The Huntington Hotel
The Huntington Hotel artfully bridges a glorious past with a stylish, chic present. Perched atop one of the city's highest hills since 1924, this elegant San Francisco luxury hotel upholds a long tradition of gracious hospitality. It's a warm, welcoming tribute to an era when travel was truly glamorous, blended with the perfect measure of modern luxury. With superb skyline views, a tranquil day spa and an award-winning gourmet restaurant, it is a truly prestigious address for savvy corporate and leisure travelers.