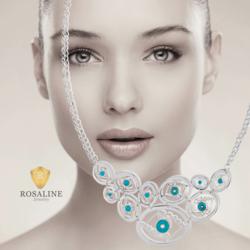 Rosaline Jewelry, an internationally-renowned luxury jewelry brand and manufacturer, celebrates its 10th year anniversary.
San Diego, California (PRWEB) May 30, 2013
Rosaline Jewelry, an internationally-renowned luxury jewelry brand and custom jewelry manufacturer, celebrates its 10th year anniversary.
The Rosaline Jewelry collections are original, fresh, inviting and aesthetically alluring. Its unique collections unify Eastern and Western motifs with artful simplicity that make a truly luxurious statement. Collectors from around the world have praised Rosaline Jewelry for its top quality materials and elegant designs, including the unique Emperor Butterfly, the lovely Angel Eyes, the sophisticated Falling Leaves, and many other collections.
The History of Rosaline Jewelry:
Rosaline Jewelry began in late 2003. Since inception, Rosaline Jewelry has amassed an array of notable milestones and honors; including an exclusive line of jewelry for Sands Corp Marina Bay Hotel/Resort/ Casino, the World Trade Center Association, the Susan G. Komen Foundation, Chaine des Rotisseurs, and featured on "Decade of Discovery" on QVC, "Silver Gallery – Rosaline Jewelry" on HSN, just to name a few.
Further validation of Rosaline Jewelry's creative excellence can be found in the sumptuous settings of the Marina Bay Sands in Singapore, one of the world's most prestigious and luxurious resorts.
In 2011, Rosaline Jewelry was selected as the first licensee for the Sands Corp. Las Vegas to design and manufacture the premium jewelry collection ---- Sands Jewelry.
"This joint venture opportunity marks one of the highlights of my career. It is a distinct pleasure and a privilege…" Said Roz Liang.
The future of Rosaline Jewelry shows no signs of slowing down.
We've invested considerable resources into building and sustaining the brand equity that underpins Rosaline Jewelry. It is distributed globally through a selected number of fine retail outlets.
We continue our efforts of developing Rosaline Jewelry collections through online e-commerce and retail channels in the United States and China.
Rosaline Jewelry currently boasts an impressive website catalog that showcases elegantly crafted luxury jewelry collections that are available for online purchase, but has aggressive plans to bolster its online presence and shopping experience for clients.
For information regarding the Rosaline Jewelry 2013 product line, custom jewelry manufacturing, or other matters, visit http://www.rosalinejewelry.com or contact (888) 306-6036.