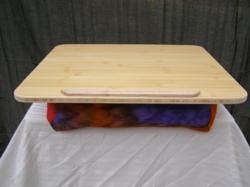 "I just wanted to let you know that I received my lap desk and it's utterly PERFECT! Such high quality and the ideal size for my chair. Thank you so much!" Kanada Z.
Eugene, Oregon (PRWEB) April 04, 2012
Lap of Luxury Lap Desk wants their customers to enjoy springtime with a luxurious and useful Luxury Lap Desk at 10% off the usual price on all orders placed before April 28th. Lovely as well as practical and available in two sizes, a Luxury Lap Desk makes a thoughtful gift as well as a valuable addition to a home. Attention to detail, quality materials, and a wide variety of excellent fabrics makes Luxury Lap Desks stand apart. For the laptop computer user, the writer, the crafter and the person who likes to eat comfortably while watching TV, a Luxury Lap Desk is a good solution.
A large bamboo or wood top Lap Desk provides a full 5" of lift allowing the back and neck to assume more normal curves thus decreasing muscle strain and pain. This makes it a wise choice for those with neck and back pain caused by leaning too far over their laps to use a keyboard or twisting to one side to use the arm of a chair.
The varieties of wood available for the ½" desk top include walnut, cherry, maple or bamboo. Matching home furniture is entirely possible with this wide range of lap desk tops.
Finally, custom orders are available. The perfect gift might include mailing in fabric to match curtains and pillows, ordering an extra wide desktop for holding a mouse as well as a lap top, or ordering an extra deep cushion for added support.
Since 2005, Lap of Luxury Lap Desks has made products that allow users to work away from a table or desk with support and ease. Offering this Springtime Special is one way of showing customer appreciation.