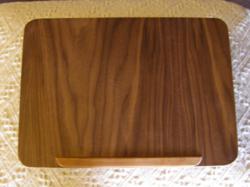 "Beauty and variety are hallmarks of our company," says owner Kathleen Hogan. "I strive to give my customers lots of choice."
Eugene, OR (PRWEB) February 08, 2012
Dark chocolate walnut and pink cherry woods are added to the fine line of lap desk tops offered by Lap of Luxury Lap Desks which already include blond maple and texture rich bamboo.
The solid tops of Lap of Luxury Lap Desks are one of its most popular features. The way a lap desk looks when propped against a wall or when lying on a couch is important to home owners. While bamboo is a frequent choice for those wishing a sustainable product, the new offerings will give lap desk users a chance to really match the other woods in their homes. As with the other choices, the new desk tops are ½" laminate with attached cushions. High quality fabrics and deep cushions make them desirable as furniture as well as postural supports.
Since 2005, Lap of Luxury Lap Desks has made products that allow users to work away from a table or desk with support and ease. Lap desks are used as writing tables, food trays, lap top computer accessories, and as portable work platforms for holding books and hobbies. The new line of walnut and cherry desks is the most recent advance in meeting the needs of a varied customer base.
###