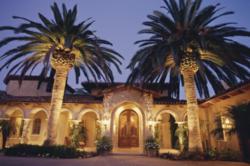 Hollywood Hills, CA (PRWEB) December 25, 2012
Luxury homes are not immune to foreclosure. Many lenders seek foreclose on larger loans quicker than the average home. Banks need to resell the foreclosed properties fast to retrieve money spent on the defaulted loan. For individuals who flip homes, it may seem easier to purchase an average home with a lower purchase cost. It is more affordable for the average investor to pick up a home selling for $50,000 to $150,000 than a Hollywood Hills real estate property selling for a million plus. The downside is the return on the investment is lower for a property with a lower value. The real estate market does not return as quickly for the average home. Red Blue Realty presents five tips for flipping luxury real estate successfully and for a larger investment.
Anytime there is a luxury home for sale it is news worthy. If the home has a particular history it will sell even quicker. Homes of celebrities, which are foreclosed or require short sales, will sell because potential buyers are extremely interested in a home, which can increase their initial investment. Not every luxury real estate property provides the same media exposure. Investors flipping Hollywood Hills real estate must choose properties carefully for the optimal return.
Luxury homes are higher quality in a potential buyer's eyes. Typically, these properties do not have the damage a lower end house may have. There are fewer improvements which need to be made; therefore, a lower investment overall. It does depend on the property selection of the investor, but success is seen on homes purchased at a foreclosure rate with little improvements completed before the sale. Improvements like upgrading the appliances with higher energy savings ratings make an impact.
Returns are better on Hollywood Hills real estate especially on luxury homes. These luxury real estate properties provide a higher performance on the real estate market due to the increased media attention and location. Marketing is needed; however, any money spent on marketing can be recouped through the sale of the house.
Investors interested in flipping homes find more availability of luxury real estate versus the average three-bedroom home. A direct connection to individuals purchasing a foreclosed three-bedroom home without it being flipped is seen as the reason. The average homeowner is not afraid of doing a little home improvement work to save on the purchase price. Investors and the average homebuyer take away the available family home. Luxury real estate requires a specific high-end buyers and most investors do not want to risk their investment sitting on the market.
With less competition it is possible to start flipping and selling luxury real estate successfully. Buyers are in the market for luxury real estate and prefer improvements be made by the investor. More Hollywood Hills homes for sale and less competition have recently created a turn in the market towards flipping Hollywood Hills real estate.
For more information about luxury real estate and how to make huge profits from investing in them, contact Christopher Rosiak at Red Blue Realty.
Website: http://www.redbluerealty.com
Email: Contact(at)redbluerealty(dot)com
Phone Number: 1-(855) 66-RBREALTY or 1-(855) 667-2732