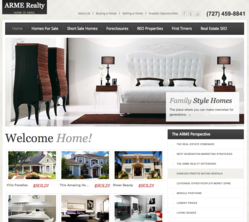 Choosing to develop a web presence as a luxury real estate agent or broker seems almost necessary.
Nationwide (PRWEB) June 18, 2013
ARME Realty.com has reportedly released a web development toolkit that claims to revolutionize the way real estate brokers market their luxury real estate properties. Now thanks to their new luxury real estate SEO brokers have a new media channel in which to tap into for new leads from buyers around the world.
Currently, the most popular form of advertising for real estate is through the newspaper, with extra emphasis placed on weekend advertisements. Realtors plan weekend open houses, place extra and larger ads for their listings on those days and the day before. The truth is that the plan works. Realtors do business like this and have done business like this for many years. But there is a change that has occurred in the advertising arena. But what if there was a better way?
According to the latest internet buzz, ARME Realty has recently released a piece of software that can build a luxury real estate SEO website that will bring business to a realtor or broker's doorstep, and continue to do so with both website growth and increased rank.
"This software uses certain information, such as keywords, to increase the traffic to the realtor or broker's website. Keyword terms are essentially the questions that we type into the Google search box when we are searching for information. This information is trackable and can be used to increase the popularity of a website," says Simon Landers, spokesperson for ARME Realty.
Owning a successful real estate business requires having a solid marketing plan and budget in mind. In order for some business to succeed marketing is an even more important part of business than it is for others, such as real estate.
The business of buying and selling homes is difficult, and in the luxury real estate market there is only so much available real estate. If a realtor wants to get the edge over the competition they have to be willing to go the extra mile and use their resources wisely. Choosing to develop a web presence as a luxury real estate agent or broker seems almost necessary.
If you are interested in learning more about AMRE Realty and the services that they can provide for you and your business call (727) 459-8841.