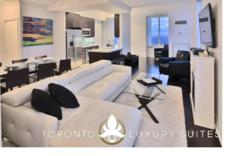 With growing concerns about the worldwide economy, everyone, including the CEOs of the world, are becoming more and more budget conscious.
Toronto, ON (PRWEB) July 05, 2012
Toronto Luxury Suites, listens to the needs of its demographics, and when it's time to add the right properties, they not only make moves, but do it with style! With growing concerns about the worldwide economy, everyone, including the CEO's of the world, are becoming more and more budget conscious. The real challenge is that although budgets are getting slashed, tastes have not changed, and many people are finding it harder and harder to find that luxury suite of their dreams, all within the a price that they can afford.
After countless hours of negotiations, scouring the hottest expos for the best prices for the top designs out there and many late nights, Toronto Luxury Suites is proud to present three new penthouse properties, located within the finest buildings of Toronto.
The newest, and most spectacular flagship suite is yet un-named and un-photographed – that's how new it is. Located on the 46th floor upper penthouse level of the prestigious Festival Tower, this stunning two bedroom plus library will soon be causing a stir in Toronto. With over 1,600 sq feet of floor space, 600 sq feet of outside space, and 11 foot ceilings, this work of art defines "living big." Finished with a marble entry way, distressed hardwood flooring, and Miele luxury appliances, we knew this suite was a winner as soon as we walked through the door.
Toronto Luxury Suite's design team has taken exceptional care and creativity when planning this suite. It features custom art work and photography all around, light fixtures that you would expect only to see in the movies, and only the finest in equipment and furnishings. With seating for 8 at the dinner table, and a chefs kitchen complete with gas stove, 3 ovens with appetizer tray, large sized fridge, dishwasher and built in espresso machine, this suite is perfect for entertaining your most discriminating clients.
Next is "Horizon", one of the most requested suites on http://www.torontoluxurysuites.com. This suite is a 47th floor sub penthouse with 10 foot ceilings, crown mouldings and all the modern upgrades you would expect. This aptly named suite allows you to see miles into the distance, and really encapsulates the meaning of a castle in the sky. With two bedrooms, three bathrooms and an office den, Horizon is perfect for the family relocating to Toronto.
Finally, "Shine" is the newest corporate sub-penthouse that has been added to inventory. Located in the heart of Yorkville at 18 Yorkville Ave, this two bed two bath is guaranteed to make you wish it was your permanent home. Floor to ceiling windows offer a south west view of the lake, the city, and of course Yorkville Avenue. This beautiful corner unit offers residents modern design, all while maintaining that functional comfort that provides a relaxing place of solitude after a long day of work. A flexible layout allows clients to work with Toronto Luxury Suites to customize the space for those that have specific needs for a long term stay.
Visit Toronto Luxury Suites design team to see the rest of the suites available for rent.