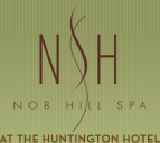 San Francisco, CA (PRWEB) April 05, 2012
The Huntington Hotel is well known around San Francisco for being a premier luxury hotel in the area. It also houses one of the best San Francisco luxury spas around, the Nob Hill Spa. Stop by the Nob Hill Spa for its new Botanical Sugar Scrub, stay around and experience one of San Francisco's best restaurants, serving contemporary American cuisine, and then cap off the evening by staying in one of the comfortable rooms offered by the Huntington Hotel, known as one of the best hotels in San Francisco.
The Botanical Sugar Scrub was inspired by the famous Botanical Gardens at Golden Gate Park that include rhododendron, camellia, geranium, and hibiscus and is offered daily at the day spa. Rhododendron is known in Himalayan herbalism as a very grounding, soothing essential oil that promotes relaxation and reduces inflammation in muscles and joints. Camellia is light, penetrating oil that enhances radiance and is rich in antioxidants and Vitamin E. Following the scrub, the body will be enveloped with a generous application of rhododendron and camellia body oil. The skin is left feeling soft and smooth with a natural sheen of healthy looking skin.
The Botanical Sugar Scrub is now available until the end of May for $135 for a 50 minute procedure.
For more information about any of the Nob Hill Spa at the Huntington Hotel's services, call 415-345-2888, view the luxury spa on the web at http://www.nobhillspa.com or visit 1075 California St. in San Francisco.
About The Huntington Hotel & Nob Hill Spa
The Huntington Hotel artfully bridges a glorious past with a stylish, chic present. Perched atop one of the city's highest hills since 1924, this elegant San Francisco luxury hotel upholds a long tradition of gracious hospitality. It's a warm, welcoming tribute to an era when travel was truly glamorous, blended with the perfect measure of modern luxury. With superb skyline views, a tranquil spa and an award-winning gourmet restaurant, it is a truly prestigious address for savvy corporate and leisure travelers.