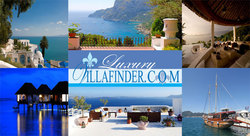 The site was built in honor of vacationers seeking beautifully situated homes for slowing down, savoring their holidays, and maintaining close proximity with family and friends.
London (PRWEB) June 13, 2010
From luxury holiday homes and villa vacations, to yachts, houseboats and even exotic tents, travelers are gravitating toward specialty vacation properties that meet their unique interests and needs. To cater to this segment of the luxury travel market, http://www.luxuryvillafinder.com, an emerging player in luxury vacation rentals and villa advertising, is launching a robust, online destination for the world's most sought-after specialty rentals that truly promise the experience of a lifetime.
"Luxury Villa Finder is where dreams and destination properties meet," said Sarah Sullivan, representative. "We help travelers find villas and holiday lets that allow them to get away and experience the globe's most exciting regions from a gorgeous and gracious home base, in the style of an 'insider.' Prestige vacation rentals are ideal for singles, couples and families who have refined tastes and appreciate comfortable cultural immersion and unique experiences. These are travelers who are interested in venturing away from your typical hotel and resort vacations in order to explore something new and different," said Sullivan. "Some guests opt for a property with staff and extra services, like a private chef and concierge. This is when a villa vacation goes far and above what one could experience in a typical hotel setting."
For vacationers seeking a unique travel experience packed with style, unparalleled comfort and privacy, villa holidays are edging out leading hotels and resorts as this year's prize property picks. In support of this trend, Luxury Villa Finder will showcase chic, exclusive luxury villa rentals and pied a terre rentals, all meeting the highest standards for location, décor, amenities, charm and luxe. The site will feature worldwide properties in Africa, Asia, Europe, North America and the Caribbean, and all property listings will include vivid descriptions, detailed information, plentiful photos and multiple videos.
The site is distinguished by its Advanced Search feature which returns homes meeting criteria based on data which was carefully entered by a meticulous but easy questionnaire process given to advertisers. "We feel both owners and guests are rightly rewarded in savings of time and potential disappointments when a vacation rental advert goes into extreme detail about the home and environs," said Sullivan. With the site's free registration option, favorite properties lists can be saved for future reference or e-mailed to friends and family.
The site also showcases small inns, boutique hotels, bed and breakfasts and maison d'hotes with detached suites, separate cottages and villas or else rentable in their entirety for a group.
Luxury Villa Finder welcomes property owners and villa agents seeking a robust online platform to advertise vacation rentals. Advertisers will appreciate the wide variety of unique categories where the home may be placed, ranging from "Professionally Baby-Proofed," to "Wheelchair and Disabled Accessible" to "Pet Friendly" and "World's Most Romantic." Top 20 Categories offer advertisers the opportunity to be included in an exclusive area listing the most sought-after villa categories, like "Destination Wedding Venues," "Gorgeous Golf Villas," "Dreamy Beach Houses," "Hottest Hotel Villas" and "Honeymoon Hideaways."
"The site was built in honor of vacationers seeking beautifully situated homes for slowing down, savoring their holidays, and maintaining close proximity with family and friends, " said Sullivan. "We look forward to hearing back from our advertisers whose guests will hopefully say, 'The home really helped us connect with the destination. Everything was perfect, we made new friends, we had people over, and the staff treated us royally. It was the best vacation we've ever had.'"
About Luxury Villa Finder
Launched in 2010, Luxury Villa Finder is soon-to-be one of the world's most premiere online destinations for luxury vacation rentals, villa holidays, exclusive honeymoon hideaways, eco-friendly retreats and other luxurious properties. The site offers a user-friendly, web-based solution for vacationers seeking specialty vacation properties that promise comfort, privacy, glamour and an unforgettable experience. For more information, to search properties across the globe or to advertise, visit luxuryvillafinder.com to find luxury vacation rentals.
Contact by email prior to phone call is preferable
Sarah Sullivan
Luxury Villa Finder
+44 (0) 2033 186368 1
Sarah(at)LuxuryVillafinder(dot)com
# # #